Vanderbilt Law School
The information on this page was provided by the law school.

Official Guide to LLM, Master's, and Certificate Programs
---
Introduction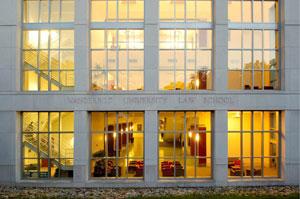 Vanderbilt University, founded in 1873, is located in Nashville, Tennessee, in the southeastern region of the United States. Vanderbilt is an internationally recognized university with strong partnerships among its 10 schools, neighboring institutions, and the Nashville community. The university draws its 12,000 students from all 50 states and 90 foreign nations.
Situated on a beautiful university campus in a sophisticated and dynamic city, Vanderbilt Law School offers a first-rate legal education in a setting that promotes a great quality of life. In the natural beauty of Tennessee, Vanderbilt's hometown has emerged as a vibrant and progressive city that offers numerous professional opportunities, as well as wide-ranging cultural and recreational options. Among the nation's most livable cities, Nashville is the state capital with a metropolitan area population of 1.6 million, and Vanderbilt is ideally situated in this major center for legal activity.
Among the nation's leading law schools, Vanderbilt is nationally and internationally recognized for its distinguished faculty, its talented students drawn from across the United States and around the world, and its rigorous curriculum. Building on this tradition of excellence, Vanderbilt has established itself as a leader in designing innovative programs that connect outstanding theoretical training to real-world information and experiences relevant to twenty-first century law practice.
Vanderbilt fosters a tradition of challenging intellectual inquiry in an atmosphere of mutual respect. This small-school sense of collegiality, combined with a distinguished and accessible faculty, creates an exceptional environment for intensive graduate legal study. LLM students are fully integrated into the Vanderbilt community, studying alongside American and other international students in the JD program. With about 50 students in each entering LLM class and 175 students in each entering JD class, Vanderbilt's purposefully limited size makes it possible for students to enjoy greater access to faculty and promotes a sense of community that is one of Vanderbilt's most distinguishing attributes.
Physical Facilities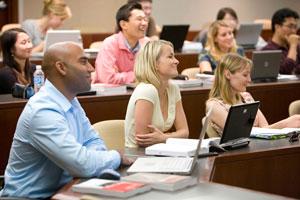 The Law School facilities are among the best designed in the nation, featuring a central open courtyard with adjacent café, comfortable lounges, and abundant natural light. Situated on a parklike campus that is designated a national arboretum, the building is designed for twenty-first century legal studies and research with wireless connectivity, state-of-the-art classrooms and trial courtroom, and on-site and remote access to a host of electronic resources. The law library provides a variety of study spaces, including two reading rooms and nearly 200 carrels. The service-oriented library staff oversees a collection of over 605,000 volumes and more than 250 electronic databases, and all other Vanderbilt libraries, containing more than 3.3 million volumes, are also available to law students.
The Vanderbilt Student Life Center features over 18,000 square feet of event space and the Office of International Student and Scholar Services, while the Sarratt Student Center houses the university dining center, a cinema, an art gallery, and the campus bookstore.
Law students enjoy unwinding at the Student Recreation Center, a well-equipped workout facility that features a gym with three basketball courts, a suspended indoor running track, a large indoor pool, a weight and cardio room, and indoor racquetball, squash, and tennis courts, as well as club and intramural sports.
Housing
A wide variety of housing opportunities are available in the areas surrounding the Law School. Many apartment buildings are located within walking distance, and many more in nearby downtown and residential neighborhoods. The Law School has an agreement with Barbizon apartments, conveniently located less than one block from campus, to make affordable, furnished and unfurnished units available to incoming law students. Incoming students receive the Obiter Dictum, a guide written by Vanderbilt law students containing valuable information and advice about area housing, and the Admissions Office also provides advice and assistance with housing arrangements.
A Distinguished and Accessible Faculty
The central experience of a Vanderbilt legal education is working closely with leading experts in an array of fields, including corporate and business law, constitutional law, litigation, criminal law, negotiation, international law, law and economics, law and human behavior, dispute resolution, and intellectual property. Widely respected for their scholarly impact, professors draw on their cutting-edge research to create engaging educational experiences that train students not only "to think like lawyers" but also to use their training effectively in practice. Faculty members take an open-door, student-centered approach, extending their availability to students well beyond class times.
LLM Programs/Areas of Specialization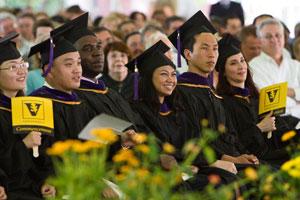 Vanderbilt offers three tracks to the LLM degree, the Course Track, the Thesis Track, and the Law and Business Track; and one joint degree program, the LLM/MA in Latin American Studies.
A variety of academic offerings allow LLM students to focus on a particular area of interest in an array of fields, including corporate and business law, constitutional law, litigation and dispute resolution, criminal law, negotiation, international law, intellectual property, law and human behavior, environmental law, and law and economics. Vanderbilt law professors are prolific and influential scholars and researchers who are known nationally and internationally for their work.
During the fall semester, all LLM students take Introduction to Legal Research and Writing in the United States. This course, specifically tailored to meet the needs of foreign attorneys and scholars, provides a distinct academic forum in which LLM students learn how to conduct legal research in the United States; the fundamental, generally accepted conventions of written legal analysis and citation in the United States; and the basic vocabulary of legal analysis and advocacy in the United States. During the fall and spring semesters, LLM students may enroll in an additional noncredit Legal English course, which addresses the legal vocabulary and acquaints students with the legal terms and idioms they will encounter in the classroom and in legal texts.
All LLM students also take Life of the Law. This course gives students a comprehensive overview of the American legal system, legal methodologies, legal concepts, and theoretical frameworks for law.
Each of Vanderbilt's LLM programs are described more thoroughly below. Additional information is also available on the Law School website, or by contacting:
Vanderbilt Law School
131 21st Avenue South
Nashville, TN 37203
USA
Email: llm.program@law.vanderbilt.edu
Course Track: Focus on Courses
Course Track students focus exclusively on coursework, choosing their courses from the law school's extensive curriculum. A faculty advisor, or a law school administrator, helps Course Track students tailor their studies to individual career goals and intellectual interests.
Thesis Track: Focus on Research
Thesis Track students complete a substantial research project that culminates in a scholarly paper. Students enrolled in the Thesis Track program work closely with a faculty advisor with expertise in their areas of study. They choose courses that support their research interests, conduct legal research, and write a scholarly paper. Only students with strong English language and writing skills who are capable of extended independent research should choose the Thesis Track option. Thesis Track applicants should have a well-developed research focus and indicate their interest in working closely with one or more Vanderbilt law professors in their applications.
Law and Business: Focus on Corporate Law
The Law and Business Track offers full-time, intensive academic and professional training in corporate law, securities regulation, finance, accounting, and the principles of corporate governance. Vanderbilt has a well-established Certificate in Law and Business curriculum and is widely known for producing lawyers who understand not only the legal and regulatory environment in which businesses operate, but also understand corporate governance, the principles of finance and accounting, and the economic and financial frameworks of transactions.
Law and Business Track graduates will generally use their training in their home countries to pursue careers in business law, as government regulators, or in other international posts that benefit from an excellent understanding of business law and corporate management. Because Law and Business graduates understand how businesses operate, they return to their home countries prepared to work effectively with business executives, managers, and directors to navigate laws and regulations governing business activities.
Legal English
Vanderbilt LLM students benefit from an optional intensive summer Legal English program designed to provide the language and academic skills needed to succeed in a demanding educational program at a top US law school. Provided in association with the Vanderbilt University English Language Center, the program includes intensive instruction in oral and written communication, small group discussions, and practice responding quickly and concisely in large group discussions. During the fall semester, LLM students may enroll in an additional noncredit Legal English course, which addresses the legal vocabulary and acquaints students with the legal terms and idioms they will encounter in the classroom and in legal texts.
Student Services and Organizations
One of the reasons that students choose Vanderbilt is the congenial, collaborative intellectual atmosphere on campus. A busy schedule of visiting speakers, symposia, and conferences is augmented by the activities of more than 50 student organizations. Vanderbilt law students are active, public minded, and diverse—all qualities reflected by a wide variety of thriving student organizations at the law school. Even with little free time, most students find it worthwhile to join one or more organizations for professional advancement, personal enhancement, altruism, and networking—or simply to balance the demands of law study.
An LLM student is elected each fall to serve as an officer on the Vanderbilt Bar Association (VBA) board, the student government organization for the law school committed to serving both LLM and JD students during their time at Vanderbilt. The VBA invites LLM students to participate in a variety of social events throughout the year, as well as in community service and outreach opportunities.
Vanderbilt Law School's Office of Student Affairs provides an array of services and support to students, including general counseling and bar examination support. Beyond the law school, LLM students have access to support from Vanderbilt's Office of International Student and Scholar Services (ISSS), which provides advice and counseling on immigration, cross-cultural, and personal matters. The ISSS Office also sponsors field trips providing opportunities for international students to visit Nashville landmarks, and a variety of social and mentorship programs connecting international students with Americans on and off campus.
Career Services
Vanderbilt provides comprehensive resources to help students explore career options. Recent Vanderbilt LLM graduates are employed in firms, government, corporations, nonprofits, academe, and other settings around the world. Vanderbilt Law alumni form a global network that spans 49 states and Washington, DC; 3 US territories; and 29 foreign nations.
Vanderbilt's Career Services Office is committed to supporting LLM students throughout the year. A career counselor works individually with students to explore professional interests and aspirations and to develop strong résumés and interviewing skills. Vanderbilt LLM students are invited to attend the annual International Student Interview Program (ISIP) held in New York, NY, where approximately 130 employers from the United States and around the world select students for initial interviews based on the résumés they receive.