Wake Forest University School of Law
The information on this page was provided by the law school.

Official Guide to LLM, Master's, and Certificate Programs
---
Introduction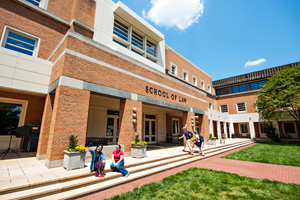 Founded in 1894, the Wake Forest University School of Law is a leader in legal education that models engagement and professionalism through academic excellence and commitment to service. WFU boasts one of the longest-running LLM for International Lawyers programs in the country, with more than 20 years of programming. Small by tradition and design, the school aims to unite students, faculty, staff, alumni, and friends in an extended, loyal family. With small classes that include both JD and LLM students, and a supportive mentoring program that utilizes the talents of Wake Forest's dedicated faculty, Wake Forest Law fully integrates all international students into the school community. The faculty, who are respected legal scholars as well as seasoned practitioners, pride themselves on being accessible to all students.
Location
Located in Winston-Salem, North Carolina, Wake Forest Law provides a comfortable and affordable setting for students. About three miles from the law school campus, downtown Winston-Salem is a thriving area that includes art galleries, restaurants and shops, indoor and outdoor performance spaces, and museums. With its moderate climate, the city offers an active cultural life and numerous opportunities for recreation and study. As a city with a small town feel, Winston-Salem is a warm and welcoming place for everyone.
Programs and Enrollment
Wake Forest offers three programs specifically for students who already have a first degree in law. These are in addition to our conventional JD program.
LLM Degree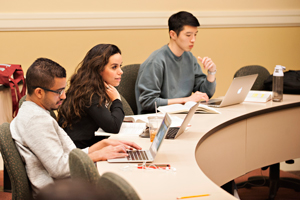 The Wake Forest Law LLM degree program is primarily designed for international lawyers and students who hold a first degree in law from their home countries and desire to enhance their legal careers by studying the laws of the United States. The LLM is a one-year, full-time course of study that encourages students to pursue their individual interests through research and coursework. Students may elect to extend their course of study for longer than a year with approval.
With the flexibility to design their course of study to best meet their needs and goals, students can specialize in one area of law, or take advantage of Wake Forest Law's large and diverse course offerings to diversify their studies. Currently, students may choose to specialize in one of the following areas of law: Business Law, Intellectual Property Law, Criminal Law, and Technology Law. Students may also craft their own specializations with approval. The LLM program at Wake Forest Law has a long-standing tradition of preparing its graduates for significant leadership roles. Its alumni include prominent private attorneys, judges, government officials, in-house attorneys, general counsel, and law faculty.
To apply to the LLM program, students are encouraged to submit an application via LSAC, where the $75 application fee is waived. Students may also apply via email or post using the application form found on our website. Requirements for application include
official transcripts
TOEFL scores
résumé
letters of recommendation
personal statement
Applicants with excellent academic credentials who are slightly under our English proficiency standards may be accepted under a conditional basis and required to complete an ESL program for full admittance.
For more information on applying and a full list of required documents, please visit Application & Financial Information.
SJD Degree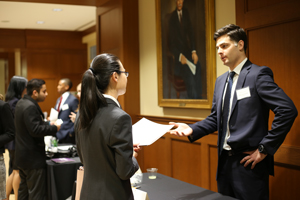 The Scientiae Juridicae Doctor (SJD) degree is for those international scholars and lawyers that have already completed an LLM degree in the United States. This degree is most often obtained by international attorneys who are pursuing academic or high-ranking governmental careers in their home countries. The SJD is not a course-oriented degree but rather is directed toward scholarly research and producing a dissertation of publishable quality that contributes in an original manner to the area of law to which it is directed.
Candidates are encouraged to apply via LSAC, though submitting an application via email or post is also acceptable. Please visit Application Requirements for more information.
Two-Year JD for International Lawyers
The Two-Year JD for International Lawyers is designed for international students with a first degree in law who wish to pursue a JD degree, either to be more competitive in their home country's job market, or in order to practice law in the United States. Admitted students will receive up to 30 hours of transfer credit toward their JD degree based on their legal studies in their home country.
Candidates must apply via LSAC.org and are required to have
a reportable LSAT score
two letters of recommendation
a personal statement
a résumé
proof of proficiency in English
There is no application fee.
Tuition and Fees
Visit Financial Information for more information on the current year's cost of attendance.
Wake Forest Law offers a limited number of merit-based scholarships for international applicants. All applicants are considered for these awards on the basis of their academic credentials, professional experience, and English abilities. No additional application forms are required. Typically, these awards only cover a portion of the tuition costs, so an additional source of funding is required.
Career and Professional Development
The faculty and staff at Wake Forest University make significant efforts to assist students in their search for positions and internships. In addition, international students are eligible to take advantage of the services offered by the Office of Career and Professional Development. Students have the opportunity to attend workshops on résumés, cover-letter writing, networking, and interviewing techniques.
Wake Forest is also a member of the International Student Interview Program (ISIP), which provides LLM students the opportunity to interview with some of the largest international law firms and companies. Each year, Wake Forest LLM students are selected to take part in the interview process in New York.
Housing
Although Wake Forest University does not offer on-campus housing for graduate students, there are many choices of comfortable, affordable housing in Winston-Salem. There are a limited number of university-owned houses available to law school students. These fully furnished properties are conveniently located near the School of Law.
There are numerous housing options in the surrounding areas close to campus and many students find housing and/or roommates by using the Law School's housing resources.
Contact Information
For additional information, please visit Wake Forest Law's International Programs website or contact
International Graduate Programs Office
Wake Forest University School of Law
Box 7206
1834 Wake Forest Road
Winston-Salem, NC 27109
USA
Phone: 336.758.6116
Fax: 336.758.3930
Email: LLM@wfu.edu
Facebook: www.facebook.com/WFULawInternationalGradPrograms/
Twitter and Instagram: @WFULawSchool