Western New England University School of Law
The information on this page was provided by the law school.

Official Guide to LLM, Master's, and Certificate Programs
---
Introduction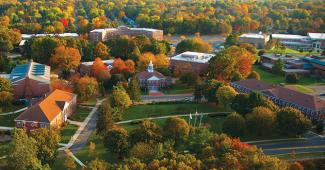 For almost a century, Western New England University School of Law has been preparing our graduates to succeed in the legal profession. The law school is accredited by the ABA and is a member of the AALS. Over 8,000 alumni live and work in 49 states and in many foreign countries. They include judges, attorneys practicing in small and large firms, and lawyers for corporations, businesses, nonprofit organizations, and all levels of government. We are located in the heart of the beautiful and vibrant Pioneer Valley on a suburban campus, 90 miles from Boston and 150 miles from New York City.
Western New England University School of Law offers both full-time and part-time JD programs, as well as an online LLM in Elder Law and Estate Planning, an online Master of Science in Elder Law and Estate Planning, and a Master of Science in Law. A distinctive feature of our law school is our personalized, student-centered approach to legal education and professional development in all of our programs. Our accessible and dedicated faculty create a learning environment that helps every student succeed and reach their full potential. 
LLM Programs/Areas of Specialization
LLM in Elder Law and Estate Planning
The only live, interactive, online LLM in Elder Law and Estate Planning in the United States, our program offers a unique opportunity for you to take your practice in a new direction or strengthen your expertise to advocate for elders and their families. In this 24-credit program, you will gain an extensive knowledge of and training in a number of diverse areas of law, including wills and trusts, estate and fiduciary administration, income taxation, federal wealth transfer taxation, and the use of various entities and products (particularly trusts and insurance products) in wealth planning and management. The program also develops expertise in social security law, Medicare, Medicaid, and other federal and state laws and regulations that directly affect these clients. You can enroll part time or full time in the fall or spring.
Why choose the online LLM?


A pioneer in live, online elder law and estate planning education, Western New England University School of Law is accredited by the ABA. All courses are live and taught online so you get immediate interaction with faculty and classmates through the use of virtual classrooms in real time. Each student can actively participate in classroom discussions. Both the video and audio of all of our online classes are recorded. Many of our graduates also archive the recordings as a part of their own personal legal education reference library.
Our program's unique online delivery experience makes the LLM available to busy professionals nationwide who are looking to enhance their skills while studying part time in just two to three years. Students have attended class from Alaska, Hawaii, while serving in the military in Germany, and while traveling in India! A full-time option is also available for recent graduates looking to strengthen their JDs with specialization in this growing practice area.
Curriculum
Since the primary objective of the program is to prepare the students to practice elder law and estate planning, the courses will emphasize the practical aspects of planning for elders, drafting estate plans, and administering estates. To obtain the degree, each student will be required to complete 14 credit hours in required courses and a minimum of 10 credit hours in elective courses. As a final 4-credit project, every student will design and draft a comprehensive estate plan under the supervision of an experienced estate planner. For a full list of courses and descriptions, please visit our website. 
Tuition and Fees
The tuition for the LLM in Elder Law and Estate Planning is charged on a per credit hour basis. The LLM Program per credit charge for the 2020–2021 academic year is $1,502. In addition to tuition, there is also a fee of $299 per semester, which includes registration, general services, and graduation fees. (Please note the fee costs are subject to change. For up-to-date information, refer to our website.)
Contact Information
For further information, please visit our website or contact
Rachel Szostak
Assistant Director of Admissions 
Administrator of Non-JD Programs
Western New England University School of Law
1215 Wilbraham Road
Springfield, MA 01119
USA
Phone: 413.782.1406