You Are the Future of a Diverse and Inclusive Legal Profession
A legal education can open the door to a wide range of career opportunities. The LSAC PLUS Program offers aspiring legal professionals a window about what to expect in law school and supportive insights about the law school enrollment journey.
Each year, LSAC partners with host law schools (see 2021 participating schools below) to provide selected participants with a unique immersive learning experience designed to prepare them for law school success. There is no cost to participate in the program, and each participant is eligible to receive a $1,000 stipend and fee waiver from LSAC.
The PLUS Program is specifically aimed at rising undergraduate sophomores and juniors from minoritized groups who are underrepresented in the legal profession. However, anyone can apply and, during the application process, applicants have the opportunity to demonstrate ways in which they can benefit from the program.
The PLUS curriculum will help you explore your interest in the law, understand the skills needed to succeed in law school, gain insights on the legal profession and future career options, and learn more about navigating the law school admission process. You will build confidence and community through supportive networking and mentoring relationships with diverse legal professionals, faculty, and peers as you immerse yourself in a program that specifically acknowledges and addresses the challenges faced by minoritized students on the path to law school and the legal profession.
Building a Community of LSAC PLUS Scholars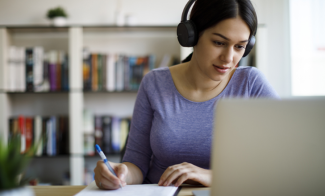 Despite the challenges presented by COVID-19, last summer, 185 students participated in a virtual version of the PLUS program, called PLUS Online. LSAC and the program's host law schools successfully delivered a robust and accessible virtual experience with a sampling of rigorous coursework in legal writing, a variety of legal topics, and sessions about the law school admission process and legal careers. Aside from gaining invaluable knowledge and skills, these students have, perhaps even more importantly, become part of a larger network of PLUS alumni who — along with every participant from the last 18 years — are now a community of LSAC PLUS Scholars.
Law:Fully
Get inspired — meet PLUS alumni and learn from their personal stories and experiences in the programs.
2021 LSAC PLUS Online Programs
Applications are open now. To learn more about programs and important application deadlines, visit host school websites below.
Duke University School of Law
Director: Ebony Bryant
Email: dlpp@law.duke.edu
Program website: law.duke.edu

The University of Akron School of Law
Directors: Brant Lee and Emma Schulze
Email: LawPLUS@uakron.edu
Program website: uakron.edu

The University of Alabama School of Law
Director: Joshua Porter
Email: plus@law.ua.edu
Program website: law.ua.edu

University of Houston Law Center
Director: Kristen Guiseppi
Email: uhprelaw@central.uh.edu
Program website: law.uh.edu

The University of Memphis
Cecil C. Humphreys School of Law
Director: Demetria Frank
Email: demetria.frank@memphis.edu
Program website: memphis.edu

University of Oregon School of Law
Director: Sarah Keiski
Email: plus@uoregon.edu
Program website: law.oregon.edu

University of Puerto Rico School of Law
Director: Hiram Meléndez-Juarbe
Email: plus.derecho@upr.edu
Program website: derecho.uprrp.edu

St. John's University School of Law
Director: Elaine Chiu
Email: ronbrowncenter@stjohns.edu
Program website: stjohns.edu

Prelaw Focus: PLUS Online Webinar Series
In addition to the students who participated in LSAC PLUS Online, hundreds more joined us in summer 2020 for a weekly webinar series designed to help aspiring law students learn more about the admission process, the LSAT, and other relevant topics.