You Are the Future of a Diverse and Inclusive Legal Profession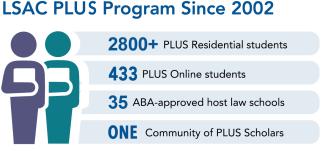 Each year, LSAC partners with host law schools to prepare aspiring legal professionals for law school success. Through a unique immersive learning experience, the LSAC PLUS Program offers selected participants a window into what law school is really like while providing supportive insights about the law school enrollment journey.
The PLUS Program is aimed at undergraduate students from minoritized groups who are underrepresented in the legal profession and one year away from applying to law school. There is no cost to apply or to attend the program if selected. All PLUS participants who successfully complete the program will receive a $1,000 stipend and an LSAC fee waiver.
In addition to gaining insights on the law school admission process, future career options, and more, participants build confidence and community through supportive networking and mentoring relationships as they immerse in a program that intentionally addresses the challenges faced by minoritized students on their prelaw through practice journey.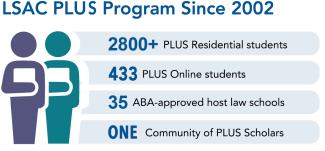 2023 LSAC PLUS Programs
We are grateful for the partnership and support of our host law schools who help make the LSAC PLUS Program possible. This year, we are excited to welcome these returning host law schools.
The 2023 PLUS Program application period is now closed.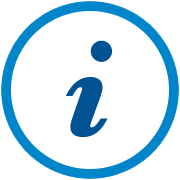 Application Tip
You'll need an LSAC JD Account before you begin the application process. Click Apply Now to create an account. If you already have an LSAC JD Account, have your L account number handy to begin the application process.
Frequently Asked Questions
Where do I find my JD account number for the application?
To begin the PLUS Program application process, the first step is to set up an LSAC JD Account. Click the Apply Now link on this page to get started. Once you have created an account, you will receive your account number which begins with an "L." Please note that your account number will populate into the application.
Can I apply to multiple PLUS Programs?
Yes, you can apply to multiple PLUS Programs. However, please note that each school may have different application deadlines, program durations, and participant eligibility requirements. Follow the links above for detailed program information available on each school's website.
Can I apply to PLUS Programs by order of preference? If so, will I be automatically given my first preference?
There is no specific option for order of preference when you choose to apply to multiple programs. However, you will have the option to indicate your first-choice program during the application process. You may provide this information by completing question #2 under the Program Participation section. If you submit a first-choice program and are accepted into that program, you will be placed accordingly.
If I am accepted into a PLUS Program, what are my next steps?
If you are admitted into a program, the host law school will communicate with you via email to share next steps and provide contact information so you can ask questions. LSAC will also reach out to you to request additional information. Please follow all instructions to ensure you are enrolled in the PLUS Program and that you're prepared for your first day!
Can I apply for an online or hybrid program if I don't have access to a laptop and/or Wi-Fi?
Absolutely! LSAC will provide loaner laptops with internet service to any accepted virtual PLUS Program participants in need of this assistance (University of Oregon School of Law). Please note that we are unable to provide internet access only.