A few years ago, deans from several law schools joined together to begin a collaborative tradition. Each year, these deans distribute a collection of single-page reports containing brief messages from each of their respective schools. The goal of this compendium is to showcase the excellence that exists in legal education today.
With so many exciting developments happening now and on the horizon, these compendiums are designed to be a "one-stop shop" for insights into the current law school climate.
2018 Law School Compendium
In 2018, 11 law schools collaborated to produce the 2018 compendium.
Download the 2018 Compendium (PDF)
2017 Law School Compendium and Video
In 2017, 12 law schools collaborated to produce the 2017 compendium, as well as a video that answers the question "Why Law?"
Download the 2017 Compendium (PDF)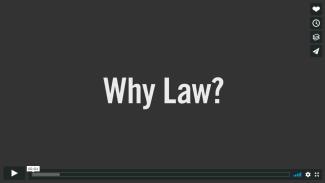 Watch the Why Law? Video
It's a simple question, but the answers shared by the students in this video
are as rich and varied as the value of a law degree itself.
---
How is your school supporting candidates in the pursuit of legal education?
LSAC is happy to host work that schools are doing to support candidates in their pursuit of legal education. In that spirit, we welcome all schools to share tools and resources that can aid candidates, whether it be by contributing to this compendium or in other ways. Contact marketing@LSAC.org to share your school's contributions.