Law Schools are able to apply for LSAC Diversity Matters Grants through June 1, 2021. All events must be held by June 30, 2021. Starting July 1, we're introducing a new grant program to support U.S. and Canadian institutions' initiatives and projects that focus on and impact diversity in the law school pipeline. To learn more about this program and how to submit a proposal, please visit DEI Pipeline Grants. 
Each year, beginning January 1, LSAC member law schools will be eligible for a grant of up to $3,000 to support their diversity outreach efforts. Law schools are encouraged to host events that motivate students who are underrepresented in the legal profession — including racial and ethnic groups, the LGBTQ community, individuals with disabilities, and Indigenous Canadians — to consider law as a career. This initiative is designed to expand the pipeline to include students in community college, early college, high school, and middle school by introducing these populations to the legal profession, the law school admission process, and to skills tested on both the LSAT and in the law school classroom.
Law schools that use the Diversity Matters grant most effectively are candidates for the Diversity Matters Award, awarded in May. The three Diversity Matters Award winners' programs will be promoted in national media and serve as models for other law schools.
Funding
Each member law school is eligible for a maximum grant award of $3,000 per calendar year to program one or more events that address early outreach, awareness, and preparation aimed at LSAC's target audience. LSAC encourages strategic collaboration with local schools, community colleges, and other stakeholders. (You can use the new Law-Themed High School Directory to help identify high schools for collaboration.)
Pipeline programs may be tailored to appeal to a school's specific demographic, resources, and location. For example:
Your grant may be used for a semester, summer, or long-term program offered to a small- to medium-sized cohort of students.
Your law school may choose to use the grant for one program or event.
Your grant may be used to assist existing programs that meet general grant criteria.
You may combine your grant with another school's grant in your geographical area.
You may use the grant to supplement program resources from bar associations, law firms, corporations, and others.
This is important. 

Please Note: Your law school may use the grant when collaborating with another program or organization, as long as LSAC is prominently recognized as a sponsor.
How to Apply
Event Form: Use this form to submit each of your grant events and other law school pipeline programs to include them in the Diversity Matters Award competition.

This is important.

Please Note: Events are posted approximately 7–10 business days after being approved.)

Report and Reimbursement Form: For your convenience, we will send you the Report and Reimbursement Form via email the day after your event. If you do not receive it, please contact DiscoverLaw@lsac.org.
Diversity Matters Contact Spreadsheet

(XLSX)

: This spreadsheet will help you collect information about your program participants. (You can upload it directly to the Report and Reimbursement Form.)
Using Social Media
We encourage your law school and student participants to post, like, tweet, or send pictures during your LSAC Diversity Matters events, and tag us. Effective social media activity and publicity will be weighed when LSAC selects the finalists for the Diversity Matters Award.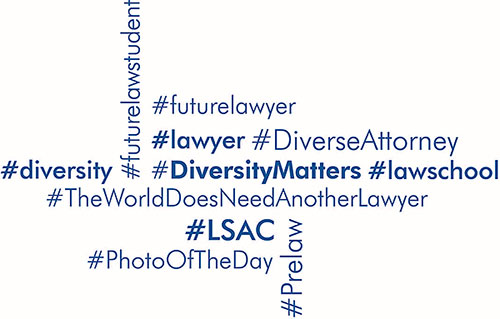 Also, feel free to use the LSAC Diversity Matters logo on your school's website to promote LSAC's diversity resources for law school candidates:
Download Diversity Matters Logo (opens in new window)
Contact Us
LSAC Diversity Initiatives staff is available to answer your questions and provide program planning assistance. For questions and inquiries, write to DiscoverLaw@LSAC.org or any member of the Diversity Initiatives staff.