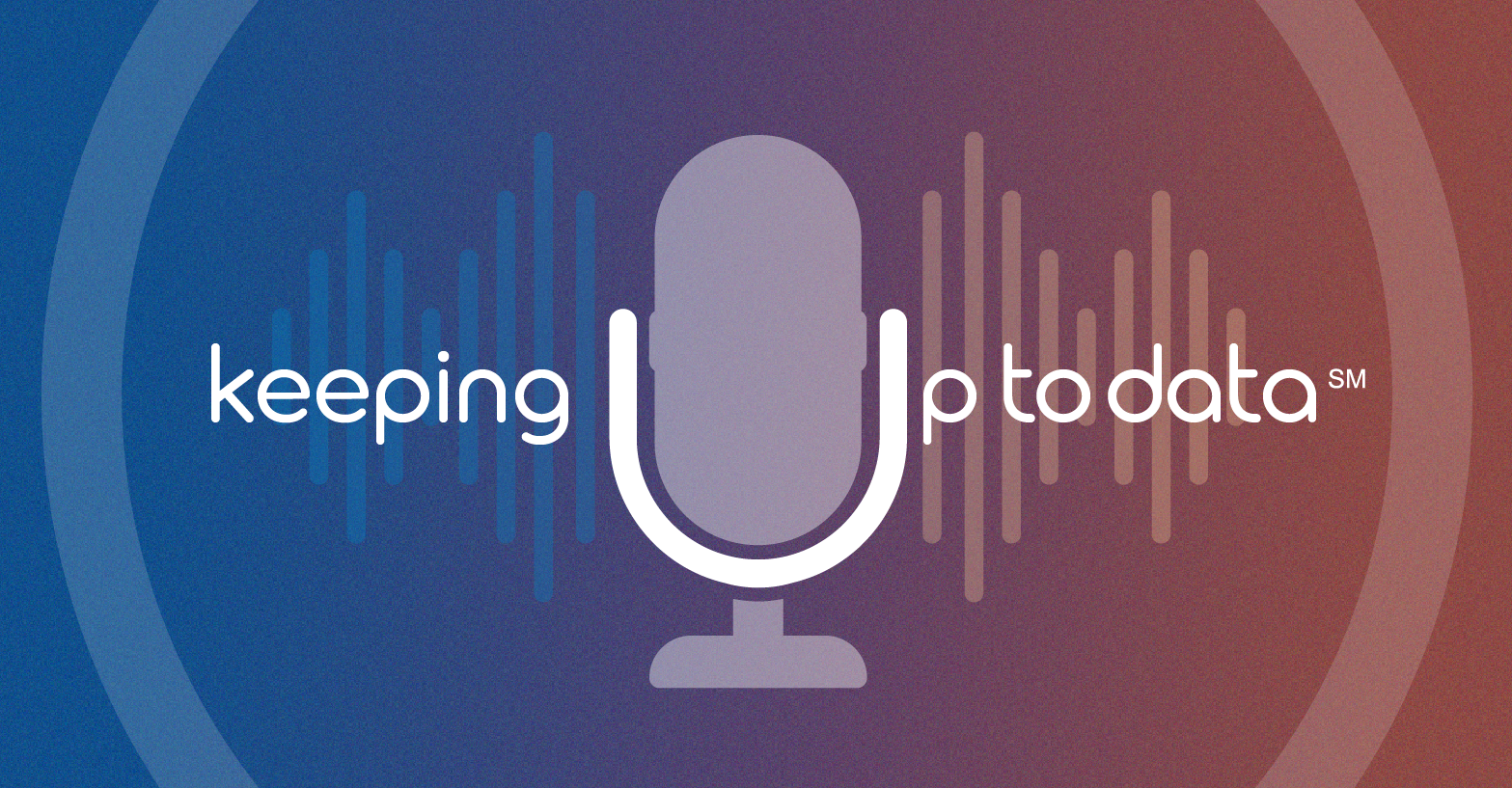 April 2023 / Episode 6 / Under 15 minutes
Introducing Dual Mode Testing for the LSAT
Welcome to the Keeping Up to DataSM podcast, a new space in which we discuss, analyze, and contextualize trends and perspectives in the current law school admission cycle by taking a deeper dive into the most up-to-date data and making sense of the complicated world of legal education.
SUSAN KRINSKY: Welcome back to Keeping Up to Data. I'm Susan Krinsky, LSAC's executive vice president for operations and chief of staff. As of late April, we have more than 90% of the applicants and applications we expect to see by the end of this cycle: just over 390,000 applications, about 3.8% fewer than last year at this time. As of today, 62 schools are showing increases in application volume, 130 are seeing decreases, and six are showing no change. Overall and in aggregate, schools in the Mountain West and Northwest are seeing the largest decreases in application volume, followed by schools in the Far West region and the Northeast. Schools in the Mid-South, Midwest and Southeast are seeing little, if any, change in application volume as compared to last year. As of today, there are over 54,000 applicants to U.S. law schools this year, as compared to over 56,000 last year.
The number of applicants compared to last year at this time is down by almost exactly 2,000 individuals. That's about a 3.5% decrease. Just over 42% of this year's applicants identify as persons of color, slightly more than last year's percentage. Applicants identifying as female are down by 2.3%. Applicants identifying as male are down by 5.8%. Those identifying as gender diverse are up by 5.8%. Overall, applicants identifying as female represent 56.7% of this year's applicant pool. As always, you can find the latest applicant and application trends and numbers on our website, which is updated daily, 365 days a year.
As for test takers, we are just completing the April LSAT® administration. We had far more registrants for this April's administration than we did for last year's — 58% more, or about 5,800 individuals — but that is at least in part because we had a March test last year and we didn't have a March test this year. We expect that the final test taker numbers will show about 4,000 more test takers for this April as compared to last April, about a 47% increase. The registration deadline for the upcoming June test is coming up, and as of today, registrant numbers are about 11% ahead of last year.
Before I move to our interview on changes in LSAT delivery for the next cycle, I thought I'd mentioned some data I was looking at recently. And that is the number of applications to "reach schools," as opposed to what we might call "safety schools" or "match schools." Of course, it all depends how you define these categories, but if we define reach schools as ones where the applicant's LSAT and GPA are below the school's 25th percentile, or where one of those data points is below the school's 25th percentile and the other is between the school's 25th and 75th percentiles, it looks like there is a smaller percentage of applicants in those groups than in previous years. My takeaway from that data is that some applicants may be discouraged from applying to reach schools or that they don't believe the schools will look at them holistically. We'll continue to review this data, but I'd encourage schools to look at their own reach data and think about whether to encourage prospective applicants in these categories to apply. And applicants, talk to law school admission offices before you rule yourself out.
Now, I am very happy to welcome LSAC's vice president for candidate services, Anthony Ricciardi, the man who knows more about delivery of the LSAT than anyone at LSAC® or probably anywhere. I invited Anthony to join us today to talk about some exciting upcoming changes and how we will deliver the LSAT starting in August. Anthony, welcome to Keeping Up to Data.
ANTHONY RICCIARDI:  Thanks, Susan. Happy to be here.
SUSAN: So, Anthony, what is this exciting change that's going to take place in August?
ANTHONY: So, in August of 2023, LSAC will be providing dual mode testing to our test takers. This is the concept that test takers can test in a professional testing environment, with the equipment provided for them, or continue to test remotely during the same administration.
SUSAN: Why did LSAC decide to offer in-person testing at this time?
ANTHONY: So, when we went remote back in May of 2020, we thought that was a short-term solution, but COVID persisted and it wound up being a longer-term solution. The remote test has been widely accepted as a success, but we've heard from a substantial number of test takers that, for whatever reason, they would welcome an opportunity to test in a test center. We thought there were enough compelling reasons to search for that solution in which we could offer both formats, and with Prometric, we feel we found that solution.
SUSAN: Are there advantages to in-person testing?
ANTHONY: The decision to choose between remote or in-person testing is really up to the test taker, and it really matters as to what's important to that particular test taker making that decision. Whatever's more convenient, whatever is the best test taking environment for that individual, that's what we want to offer and provide to our test takers.
SUSAN: Will test takers still have a choice in situations where we are offering the test over multiple days? Will they still have a choice as to which day to take the test, what time to take the test?
ANTHONY: Test takers will have a choice of days. We currently offer the administrations on Friday or Saturday. They will have choice of modalities, whether it's remote or in centers, and they can also choose their time. Test windows will be open for 12 hours on Fridays and Saturdays.
SUSAN: Will the testing centers be like the old testing centers we used before the pandemic?
ANTHONY: No, they won't. Back in the day, we leveraged universities and hotels and other institutions to deliver the LSAT. In the new world, in the new test centers with Prometric, they'll be professional test centers with equipment provided in a professional environment optimal to taking standardized tests.
SUSAN: How can prospective test takers identify the testing center that is closest to them?
ANTHONY: The easiest way is to Google, and you can see all the Prometric test centers just by Googling what the Prometric test centers are, doing a search that way. But upon registration for the LSAT, which will be done through LSAC.org, test taker can use Prometric's ProScheduler to search for test centers.
SUSAN: Will in-person testing be conducted on tablets, similarly to how the digital LSAT was administered immediately before the pandemic?
ANTHONY: No, all in-person testing will be administered on computers provided at the test centers using the LawHub test driver, just like we've been using since May of 2020.
SUSAN: Will LSAC continue to provide free loaner devices and hotel reimbursements for test takers who want to test online — that is, remotely — but don't have the appropriate equipment or an appropriate place to test?
ANTHONY: No, LSAC is discontinuing this service. Professional test centers are a much better option to test than the tablets that we've shipped or reimbursing for hotels, which are not optimal environments for a standardized test. The centers that we're providing are a much better solution.
SUSAN: We're hearing from some prospective test takers that if they test at a test center because they don't have a computer or reliable internet or a quiet place to test, can they also complete their LSAT Writing® at the same time?
ANTHONY: No, LSAT Writing will be unchanged. It will still be a completely, fully online proctored format. We're going to continue to open the LSAT Writing eight days before each administration. It'll be available 24/7, 365 days a year so you can complete it. And we'll re-evaluate that in the year ahead.
SUSAN: So, we know that the registration deadline for any test is about 45 days before the test, but when will the test taker actually schedule when they're going to take the test?
ANTHONY: So, in our current world, scheduling opens up 15 days before the administration. We've heard from test takers that they would like more time in order to make provisions as to where they're going to be and get equipment, if they need to get equipment. We're moving scheduling much earlier in the process, to 37 days before the administration. So, one week after registration closes, test takers will be able to begin scheduling at that point in time.
SUSAN: That's both for in-person and remote testing?
ANTHONY: It is. Both will open at 37 days. Center-based testing will have to close at 30 days before the administration, so that we can ensure all the equipment is delivered that needs to be delivered. But remote scheduling will continue and have a deadline of three days before the administration.
SUSAN: What if a test taker changes their mind? That is, they registered for in-person testing 30 or 32 days before the test and, I don't know, a couple of weeks before the test, they decide that they'd really rather take it at home, remotely.
ANTHONY: So, test takers can reschedule as often as they like, up to 30 days out. After 30 days out, test takers can go from center to remote if they choose. That option will remain open up through three days before the administration.
SUSAN: But if they wanted to switch in the other direction, they could not. Is that correct?
ANTHONY: That's correct, because we need to make sure we have all the proper equipment at the facilities that need to be there.
SUSAN: Anything else you'd like to tell us about dual mode?
ANTHONY: We're just really excited to offer this to the test takers. We think it's going to be a nice, nice feature. It's the next big change for the LSAT, which has seen several big changes over the last few years, and we think this is really going to be something that test takers appreciate. So, we're excited to offer it.
SUSAN: Thanks so much for being with us today, and I know we all look forward to dual mode in August.
ANTHONY: Thanks. It was great to be here.
SUSAN: To our listeners, thank you for joining us at Keeping Up to Data. We look forward to your joining our next episode, when we will continue to take a close look at the data from the current admission cycle. Until next time, stay well.
Thank you for joining us. Keeping Up to DataSM is a production of LSAC. If you want to learn more about the current law school admission cycle and the latest trends and news, visit us at LSAC.org.