LSAC Awards DEI Writing Competition Winners
July 15, 2020
As part of the Law School Admission Council's longstanding commitment to promoting access and equity in legal education, the organization is pleased to announce the winners of its 2020 writing competition, held every two years to bring attention to the topic of diversity, equity, and inclusion in legal education and the profession.
For decades, studies have consistently shown that students of color, students living with a disability, and LGBTQ+ students are underrepresented in most law schools. As a consequence, smaller percentages of persons who represent these groups are graduating from law school and entering the legal profession. LSAC believes that in order to create a truly just world in which equality exists for all, the law must mirror the diversity of the society it serves.
First launched in 2014, the biennial writing competition is open to all currently enrolled law students pursuing a JD degree, and aims to advance the dialogue about recruitment and retention strategies that can attract a more diverse class of law students, thus bringing attention to LSAC's goal of increasing diversity in the legal profession.
This year's competition required participants to focus on the topic of why a diverse and inclusive bar is essential for equality, justice, and the rule of law, with a $5,000 prize to be awarded to one winner from each of three categories (1L, 2L, and 3L/4L). Submissions could be up to 20 pages in length and were evaluated by a panel of law school faculty, legal writing instructors, and LSAC Diversity, Equity, and Inclusion Committee members to determine the winning entries. This year's winners are Dianna Sauceda-Chirinos (1L), Christina John (2L), and Hakeem Muhammad (3L). You can read more about the winners below, where you will also find links to their winning essay submissions. For more information about this year's writing competition, contact diversityoffice@LSAC.org.
Winners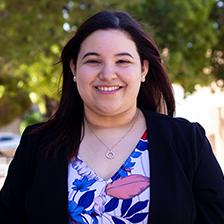 Dianna Sauceda-Chirinos won the competition in the first-year law student category with her essay, "A Case for Representation and Inclusivity (PDF)." She said that her decision to pursue a law degree arose after working at a local law firm. "It was my first job in the legal field," said Sauceda-Chirinos, who has now been with the firm for nearly four-and-a-half years. "When I started, I had law school in the back of my mind, but not until I saw the logistics involved with representing Latinx clients did I seriously consider law school." With encouragement from her employer, she embarked upon her legal education journey. Upon graduation, she hopes to clerk for a judge in order to continue learning the intricacies of the court system. "Long term, I would like to work as a public defender and/or a civil rights attorney," she said. "I do not see these two roles as conflicting or mutually exclusive, but rather necessary advocacy roles that seek to validate and protect the human rights of BIPOC (Black, Indigenous, and Persons of Color), immigrants, and poor people." Sauceda-Chirinos, who spent half of her life in Los Angeles and attended UCLA "where protests and 'radical' movements have heavy participation and support," revealed that she experienced a "culture shock" upon starting law school last year, which ultimately inspired her to write her winning essay. "The oppressive language I had forced myself to unlearn was popping up again in the classroom and I felt compelled to write about the dire need for more students who look like me in law school," she explained. "It is important for people in my community to have the ability to retain legal representation from someone who will 1) not take their trust for granted and 2) understand the nuanced experience of surviving as a marginalized person in the U.S."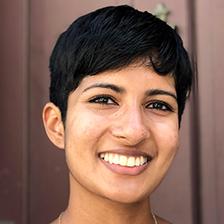 Christina John won the competition in the second-year law student category with her essay, "It's Your Choice: Diversity and Inclusion or Irrelevance and Extinction (PDF)." John's decision to pursue law was motivated by her desire to make the legal system more accessible to lower-income BIPOC communities. As a young woman whose parents were both immigrants from India, she says that she personally never knew a lawyer growing up. "I could not turn to a single lawyer for advice before coming to law school," John recalled. "As a result, I was more lost than some of my peers in the fall of 1L." In addition, if her family ever needed a lawyer, they were completely lost on how to navigate the system. "I remember once calling a district attorney's office to be told that they only spoke to lawyers, not civilians," John said. "I remember that call making me realize how inaccessible the legal system is if you do not have the resources. I have learned so much in law school about the power that lawyers wield and how they play a tremendous role in how our society is shaped. I have learned a lot about how I would want to use the privilege that a JD will give me." John admitted that she has experienced a lot of personal frustration because of the legal field's inattentiveness to issues of diversity, equity, and inclusion, but that these challenges have motivated her to deepen her commitment to continue fighting for racial justice. "I am committed to working for racial justice after law school," John said. "I plan to do a mix of movement lawyering and policy work." John drew inspiration for her winning essay after advocating for increased diversity, equity, and inclusion at her own law school. "I wanted to make the case for why it is vital to seriously engage in antiracist work," she said, adding that she hoped the data, history, and exploration of other DEI successes and failures detailed in her essay would motivate schools to back their words up with meaningful action.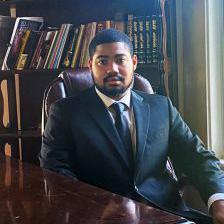 Hakeem Muhammad won the competition in the third-year law student category with his essay, "Why A Diverse Bar is Paramount to Protecting the Constitution (PDF)." Muhammad, who has since graduated from law school, was motivated to pursue his JD after growing up in a heavily impoverished neighborhood in Chicago's South Side, where he witnessed a lot of gang activity in a neighborhood that had over 50 homicides. Interested in understanding the origins of gang violence, he began studying the history of African Americans in Chicago. "I began to see a direct tie between the lack of opportunities facing black Americans due to institutional racism and the conditions that gave rise to gang violence," Muhammad recalled. His research led him to the writings of African American legal theorist Derrick Bell. "I was very inspired by the depth of his analysis. I believe Derrick Bell's legal education allowed him to offer the black community cogent insights on their political and social realities. Derrick Bell was a lawyer," explained Muhammad, "and I wanted to follow in his same footsteps." Muhammad was also inspired after reading The Autobiography of Malcolm X, in particular the chapter in which Malcolm X told his white teacher that he wanted to become a lawyer and was told, in the form of a racial slur, that being a lawyer was no job for someone with black skin. Later in his book, Malcolm X expressed that one of his greatest regrets was his lack of formal academic education and that he believed he would have become a great lawyer but simply never had the opportunity. "The fact that the most prolific writer on American racism, Derrick Bell, was a lawyer and the fact that one of the most prolific critics of racism in American society, Malcolm X, desired to be a lawyer, showed me the power of legal education to positively combat structural racism in American society." Muhammad will soon begin working as a public defender in Boston. "I selected this career path due to my passion for defending the indigent," said Muhammad, who also intends to raise awareness and organize against structural racism through scholarly articles and speeches. His winning essay was inspired by his desire to research the impact that a lack of diversity in the legal profession has on African American defendants in criminal trials — research that will be important to him as he begins his career as a public defender.