Tracking the 2024 Application Cycle
Every year around this time, once most law schools have opened up their applications processes, LSAC publishes an interactive website that serves as a resource for schools, prelaw advisors, students, and many others who are interested in understanding the 2024 admission cycle.
The site is updated daily, and provides detailed information on the overall number of applicants and applications; you can filter the information by geographic region, race/ethnicity, gender, LSAT score band, and other criteria.
You can always find the latest information at https://report.lsac.org/VolumeSummary.aspx.
Starting the 2024 Cycle
This year's cycle started slower than last year but is picking up steam. This may be in part because some schools opened their applications later this year, given the need to take additional time to review and update admission processes and materials in response to the June 29 decision by the U.S. Supreme Court. As more applications opened in recent weeks, we've seen the year-over-year gap narrow rapidly. In addition, the unfortunate technical and proctoring issues with the August and September LSAT administrations may be delaying some applications. While the vast majority of affected test takers were able to retest and receive their scores as scheduled, there are some affected test takers who opted to test in October or later. Despite the issues, we've actually had 2,296 more test takers complete their tests this August and September than last year, but that number would have been even higher without the technical and proctoring issues. Registrations for the October and November LSATs combined are currently running about 6,900 test takers ahead of last year at this time, which bodes well for strong testing and application cycles.
That said, it's too early to make any meaningful projections about the 2024 application cycle. At this point, we typically have only about 13% of the total number of applicants and about 9% of the total number of applications. As we have seen in recent years, early trends often change dramatically.
With those cautions in mind, here are some very early, initial numbers for the 2024 cycle.
Early Applicant Volumes
As of today, the early applicant volumes for 2024 are running about 6.8% behind the early applicant numbers for this same date in 2023. As noted above, there are some short-term factors that may be contributing to this early decline, but we are seeing the gap close rapidly, now that nearly all schools have opened applications. The five-year comparison shows 2024 lower than 2021, 2022, and 2023, but already higher than 2020.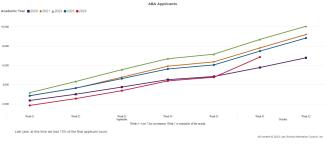 Early Application Volumes
Looking at applications, we see the same trend. So far, 2024 is lower than 2021, 2022, and 2023, but higher than 2020, and climbing as schools open their applications.
Diversity in the Applicant Pool
The proportion of applicants of color is slightly above last year. Currently, about 37.3% of applicants identify as a person of color, compared to 36.3% at this time last year. The proportions of women and gender-diverse applicants are very much in line with last year; currently, about 54% of this year's applicants identify as women, and just over 1% identify as gender diverse. We will continue to monitor the diversity trends closely in the weeks and months ahead.
Other Indicators
Beyond the applicant and application volumes, there are several other data points that we watch closely.
Test taker volume: As noted earlier, despite the technical and proctoring issues, we have had approximately 2,300 more completed tests in August and September of this cycle than last cycle. October currently has about 3,300 more registered test takers than last year's October test at this time. And this year's November LSAT currently has almost 3,600 more registrants than last year's November test at this time. So we are seeing very strong demand for the LSAT, which generally translates into solid applicant and application volumes.
First-time test takers: We had 770 more first-time test takers complete this year's August and September tests than last year's. And compared to this time last year, we currently have about 1,400 more first-time test takers registered for this year's October LSAT and nearly 1,000 more first-time test takers registered for this year's November LSAT.
CAS accounts: We have had 670 more CAS accounts created between July 1 and today as we had during the same period last year.
We will continue to monitor these and other trends in the testing and admission cycle, and provide periodic updates.