Fordham University School of Law
The information on this page was provided by the law school.

Official Guide to LLM, Master's, and Certificate Programs
---
Introduction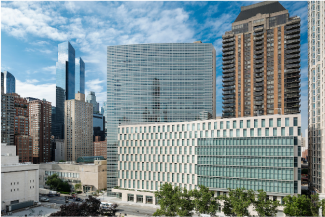 Fordham Law School's LLM programs combine rigorous study and a warm and welcoming environment, all in the heart of New York City—the nation's legal, financial, and cultural capital.
The Fordham Law curriculum offers a perfect mix of courses devoted to theoretical inquiry as well as practical exposure. LLM students have the opportunity to enroll in drafting courses, clinics, and externships that offer them hands-on legal experience. LLM students may also apply for special staff positions on student-run journals. Each year LLM students also serve on the boards of student organizations, such as the Student Bar Association.
Fordham Law offers the flexibility to accommodate today's global professionals. You can begin your studies in either August or January. Our dual-concentration program allows you to study for three semesters and have the unique advantage of receiving the LLM in any two of our areas of specialization. We have a robust evening curriculum to enable working students to advance their studies. Our professional track allows busy professionals maximum flexibility in scheduling their studies over a period of up to two years. Students also have the option of taking our Legal English Institute (LEI) on a credit basis as part of a dual-concentration LLM program in US Law and a second concentration of their choice.
Fordham Law has a state-of-the art building just steps from Lincoln Center for the Performing Arts, blocks from Central Park, and a short walk or subway ride from all that New York City has to offer. In addition to innumerable social and cultural opportunities, Fordham Law's location offers students unparalleled access to networking and other professional opportunities.
Fordham Law professors are as well known for their teaching as they are for their scholarship. Our faculty members devote themselves to the educational experience, and do so with a personal touch. Our full-time faculty is supplemented by a cadre of adjunct professors, drawn from some of the most prestigious law firms, companies, and international organizations in the world.
Read this letter from Assistant Dean Toni Jaeger-Fine and send us any questions you may have.
Law School Enrollment
Typically there are 160-180 students enrolled in the LLM program each year, including 30-40 part time students.
LLM Programs/Areas of Specialization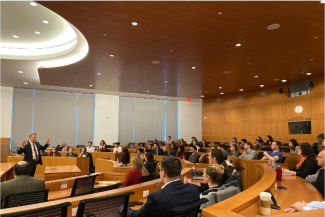 Our nine LLM degree programs are built on the interdependent principles of globalization and specialization.
Learn more about our LLM programs, Master of Studies in Law (MSL), Doctor of Juridical Science (SJD), and certificate programs by downloading our brochure.
Banking, Corporate, and Finance Law
Students seeking the LLM in Banking, Corporate, and Finance Law acquire a sophisticated appreciation of corporate structure, an understanding of the laws relating to capital markets and financial institutions, and genuine insights into the goals and strategies of US executives and business lawyers. In this program, students enroll in core courses, including Corporations, International Banking Law, Banking Law, or Financial Institutions, and choose from a broad array of additional courses in corporate, banking, and finance law and related topics such as bankruptcy, corporate finance, corporate governance, corporate tax, cross-border insolvency, mergers and acquisitions, and securities regulation and enforcement.
Corporate Compliance
The Corporate Compliance LLM program is the first of its kind in the United States. Students will be trained in the skills that are essential for any professional in this field of rapidly emerging and growing importance, which is often global in scope. Students study the basic regulatory framework, the role of in-house counsel, the corporate compliance office, and the varied elements of compliance. This LLM program is also available online.
Fashion Law
LLM students in the Fashion Law program will study with the most distinguished faculty in the discipline—including both academics and industry insiders—in New York City, a capital of the world's fashion industry.
You will explore what we've defined as the four pillars of fashion law:
intellectual property
business and finance, including areas such as investment, employment law, and real estate
international trade and government regulation, including sustainability, privacy, and issues related to wearable technology
consumer culture and civil rights
You will also gain direct access to events and networking opportunities available through the nonprofit Fashion Law Institute. Established with the assistance of the Council of Fashion Designers of America, this is the world's first center dedicated to the law and business of fashion—and it is based at Fordham Law.
Intellectual Property and Information Technology Law
Fordham Law's unique program in Intellectual Property and Information Technology Law combines the classic study of intellectual property rights with the rapidly developing field of information technology law. Students study fundamental and advanced intellectual property rights issues in copyright, patent, and trademark law, and also learn about issues that lie at the head of today's digital information society, such as cybercrime, e-commerce, information privacy law, and Internet law.
International Business and Trade Law
The LLM program in International Business and Trade Law prepares students to meet the challenges of an increasingly global economy by giving them the knowledge and training needed to handle the complex transnational transactions that define the current legal and business environment. Students choose courses from an evolving curriculum that reflects current global economic power players.
International Dispute Resolution
The International Dispute Resolution program offers students the opportunity to explore in depth, from both a theoretical and a practical perspective, the various options for the adjudication of disputes, and especially to examine how they are played out in the international arena. Foreign students will develop an appreciation for the US common law system generally, and will learn some of the particular characteristics of the US litigation model.
International Law and Justice
The International Law and Justice program offers students the opportunity to gain an advanced understanding of human rights protection and promotion on international, regional, and domestic levels. This degree is designed primarily for those who work or intend to pursue a career in the public sector, including high-level government attorneys and leaders in nongovernmental organizations and academics.
Real Estate Law
The Real Estate law program provides students with a solid foundation in real estate law, including key areas such as real estate finance, residential and commercial leasing, land use, affordable housing, environmental law, corporate law, tax, and related legal fields. The program is intended for attorneys looking to deepen their understanding of real estate law or to open new career opportunities in real estate.
US Law (also available online)
The US Law program is designed for students who have received their primary legal education in a civil law country and who are interested in an introduction to the fundamental principles of the US legal system and basic concepts of US law. Students in this program have the flexibility to develop a curriculum in US law topics that suits their particular needs and interests. This LLM program is also available online.
Housing
There are a limited number of dorm rooms available to LLM students. The Residential Life Office will make housing assignments on a first-come, first-served basis. Fordham Law also offers some graduate housing at 134 West 58th Street, a short walk to the Law School. For applications and information, contact the Residential Life Office at +1 212.636.7100 or reslifelc@fordham.edu.
Most students live off campus, either in Manhattan or other boroughs of New York City, or in New Jersey. An excellent public transportation network makes for easy travel into and within New York City.
Career Services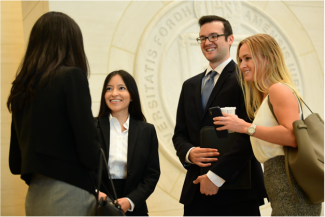 The Graduate Professional Development Program (GPDP) was created to address the career planning and professional development needs of Fordham Law School's LLM community. The GPDP sponsors a wide variety of services for students and alumni, including assistance with résumé writing, interviewing skills, and job-search strategies, as well as individualized counseling sessions. We aim to provide the highest level of service to students, alumni, and employers alike.
Alumni Connections
We are immensely proud of our alumni community of esteemed lawyers, judges, entrepreneurs, and public servants. This vibrant and loyal network reaches across the globe, and includes more than 60 national and international chapters and delegates. Further, LLM alumni, as well as friends of Fordham Law, regularly return to offer current students guidance and mentorship. Learn more about our LLM and Friends Professionalism Series here.
Application Process
Applications must be submitted online through your LSAC LLM account, in adherence to the deadlines below.
Note: Submit your application early to receive priority consideration for one of our merit-based scholarships. See below for additional information about scholarships.
For spring admission (January start): October 1.
For fall admission (August start): March 1.
In addition to LSAC's fees, a $70 application fee will be charged to complete your submission ($100 for applications submitted after the application deadline).
All applicants must submit the following documentation:
Official transcript from each college, university, graduate school, and law school attended. LSAC's International Transcript Authentication and Evaluation Service is optional. For international applicants, all transcripts must be accompanied by an explanation of the grading system in English.
A typed, 500-word personal statement describing your reasons for pursuing this graduate degree.
Two letters of recommendation.
A current résumé or curriculum vitae.
A TOEFL, IELTS, or Duolingo score is required unless the applicant holds a degree from the United States, any Caribbean Island where English is the sole official language, Australia, English-speaking Canada, Ireland, New Zealand, or the United Kingdom. Applicants who are not exempt but who received their legal education with English as the sole language of instruction may request an interview in lieu of the TOEFL or IELTS by selecting this option on the application form. However, please note that the admission committee strongly prefers such applicants to submit a TOEFL (minimum of 100 on the internet-based, 250 on the computer-based, or 600 on the paper-based) or IELTS (minimum of 7) or Duolingo (minimum of 120) scores. If your score is below our requirement, we will still consider it with your application and may reach out to schedule an interview. For applicants unable to demonstrate sufficient English proficiency through the TOEFL, IELTS, or Duolingo requirement, we are pleased to offer admission contingent on full-time enrollment and satisfactory progress in Fordham's Legal English Institute (LEI).
Tuition and Scholarships
Tuition for the academic year 2020–2021 is $63,932, full time, and $2,372 per credit, part time. For additional information on cost of attendance, please click here. 
Fordham Law LLM Feerick, Treanor, and Martin Scholarships
We are pleased to announce three new scholarships, named in honor of former Fordham Law School deans who contributed enormously to the development of our LLM programs. These are the John D. Feerick Scholarship, the William Michael Treanor Scholarship, and the Michael M. Martin Scholarship.
Recipients will be awarded a scholarship equal to 100% of the LLM tuition. These three scholarships will be awarded to exceptional applicants to the full-time on-campus program who are found to possess character traits embodied by one or more of these great leaders. To apply, applicants must submit an essay and complete their application file by February 1. Additional information and application instructions are available at Scholarships and Financial Aid.
Fordham Law Graduate Student Scholarships
Each semester, the admissions committee awards partial scholarships based on merit. There is no separate application process for these scholarships; however, applicants must check the box on their application form indicating they wish to be considered for a Graduate Student Scholarship and applications should be completed by the early scholarship deadline for priority consideration (September 21 for spring /February 1 for fall). LLM program staff will notify applicants if they have been selected for a scholarship award. Additional information is available at Scholarships and Financial Aid.
Vivian Leitner Global South LLM Scholars Program
Fordham Law also offers a scholarship through the Leitner Center for International Law and Justice. This scholarship is restricted to a select few highly qualified LLM candidates in international human rights. For application information, including the application deadline, please visit the Vivian Leitner Global South LLM Scholars Program.
Frequently Asked Questions
Still have questions about Fordham Law's LLM program? Visit our FAQ page.