LSAC is here to support you as you navigate this unprecedented school year. Below is a list of resources you may find helpful as you strive to balance current challenges with institutional goals while serving as a leader within the legal education community. Together, we can build a diverse and inclusive future of law and justice.
LSAC Mission, History, and Fast Facts
LSAC was founded by deans over 70 years ago to address discrimination and bias in legal education, which at that time rarely welcomed women or persons from underrepresented racial, ethnic, or religious groups. Read our mission statement and view our interactive timeline to learn more about our history of promoting access and equity in legal education.
We are a not-for-profit organization that is governed by a Board of Trustees and we execute our work with a staff of around 350 employees and the generous services of hundreds of volunteers drawn from law school deans, staff, and faculty. Our current board chair is Dean Kevin Washburn of Iowa's College of Law and our chair-elect is John Valery White, former dean of the William S. Boyd School of Law at the University of Nevada, Las Vegas. He also held positions of executive vice president and provost of UNLV before returning to the faculty.
LSAC provides comprehensive and personalized support to law schools, prelaw advisors, and candidates by helping to encourage candidates to pursue legal education and by easing the discovery and enrollment process for JD, LLM, master's degrees, and other programs.
Each ABA-approved law school is a member of LSAC, although we do not charge schools membership fees. Rather, we operate in a compact of mutual support with our members to provide products and services for the benefit of all schools and candidates that would be cost prohibitive and ineffective for each school to fund individually.
About the LSAT and LSAT-Flex
LSAC develops and administers the LSAT, now the world's most respected and reliable assessment of critical thinking skills. To allow candidates to continue their enrollment journeys and help keep the admission process smooth during the pandemic, we have begun administering the remotely proctored LSAT-Flex, with about 106,000 exams administered to 96,000 candidates since May 2020. There are three tests remaining in the current cycle, all of which will be delivered remotely.
All credible research continues to show that using the LSAT as one factor in a holistic admission process best promotes quality, access, and equity in legal education. The LSAT is the single best predictor of law school success, and the LSAT and undergraduate GPA in combination are even better.
Diversity, Equity, and Inclusion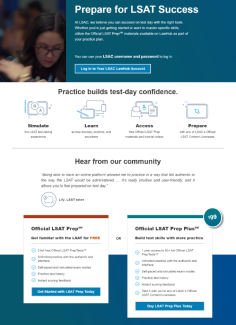 To increase diversity in the legal profession, we must build the pipeline of college graduates interested in law and shore up leaks that occur between law school interest, and help them remain on the path that leads to enrollment, graduation, and professional attainment. LSAC is always working on programs and initiatives to bolster and diversify the pipeline. These include:
Enrollment Management Consulting Services
LSAC's Enrollment Management Consulting Services help you achieve your admission goals by providing key data insights that allow your admission staff to adjust their recruiting strategies and make more informed decisions. Our services are tailored to the unique information needs of our member law schools, with the goal of helping your admission staff spend less time on the logistics of managing data and more time making data-driven decisions regarding enrollment objectives. For more information, please contact our Director of Enrollment Management, Evan Didier at EDidier@LSAC.org. And I am happy to connect with you directly if you would like to brainstorm these and any other topics; please reach out at KTesty@LSAC.org and 215.504.1474.
Data and Research
LSAC is your national data library for the latest test taker and applicant volume data, updated daily. We also have a vast research library featuring surveys, studies, and reports on a wide variety of topics of interest to the legal education community.
Deans Dialogues and Other Webinars for the Legal Education Community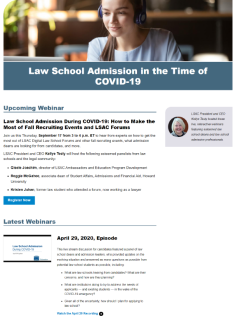 We are committed to supporting and uniting our schools, candidates, and other valued members of the legal education community, particularly during this unprecedented time when in-person gatherings are not possible. To that effect, we have launched a series of regularly scheduled, audience-specific webinars covering a broad range of topics. These include:
A bimonthly Deans Dialogue cohosted by LSAC President and CEO Kellye Testy and AALS Executive Director and CEO Judith Areen, which addresses the most pertinent issues you're facing today, including a segment on how to be an antiracist dean.
Admission professionals webinars for your admission staff on topics specific to their roles in building the pipeline and surviving and thriving during challenging times.
Prelaw advisors webinars on how to best serve their students during the pandemic.
Our popular candidate webinar series, Law School Admission in the Time of COVID-19, designed to support candidates by addressing their most pressing concerns while offering insights from law school administrators on the current state of admissions. Each live discussion attracts 3,000 to 4,000 candidates.
A Justice Hour series exploring today's critical issues with a focus on working together for true equity and positive change. Highlighted topics have included racial justice, the impact of recent Supreme Court decisions, and justice-impacted law school populations.
Our monthly Live with Kellye & Ken show, highlighting topics of interest to the legal education community such as accessibility and DEI in law school and the profession while often featuring law school deans as our expert panelists. 
Other Services LSAC Provides to Deans and Their Schools
We promote the value of legal education widely in digital and other campaigns nationally and internationally and create a large pool of candidates to whom schools can market their programs.
We conduct national and international forums to help candidates learn about legal education and provide schools an opportunity to connect with those candidates. Due to the COVID-19 pandemic, we are bringing our law school forums directly to schools and candidates this year in an innovative new digital format that will allow candidates to network with representatives from over 200 law schools while participating in educational workshops and learning about important next steps in their enrollment journeys — all from the comfort and safety of home. This new platform is allowing us to reach and serve even more candidates than in years past.
We provide the sophisticated technology (called ACES now, soon to be a new system called Unite) that runs schools' admission offices.
We provide a wide range of services and research related to expertise in assessment, including formative assessment, outcomes assessment, and other aspects of academic measurement.
Additional Resources
Law:Fully. Our blog explores the latest issues in law, justice, and legal education through topics related to race equity, accessibility, and diversity, while also highlighting trends in law school admission. 
LSAC quarterly report (PDF). Our most recent report provides an overview of our latest programs and initiatives, with particular attention to how we are continuing to promote diversity, equity, and inclusion in law and education, as well as insights into recent application volumes and trends with a focus on underrepresented groups.