Real Stories
"I am the new face of law."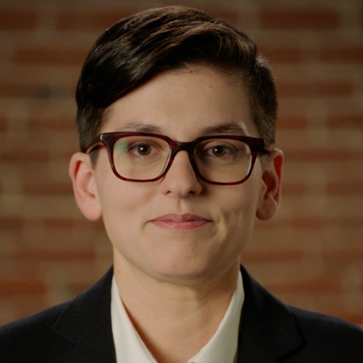 Social
Justice

My Progress
My Story
I initially earned a degree in social work, but it left me feeling powerless. Social work happens on a case-by-case basis. There are never enough resources to really fix the system. If you want to change the system, you have to change the laws. You can do that by becoming a lawyer.
I had a hard time seeing myself as a law student. On television you see all these incredibly smart, attractive, and very conventional people. I'm not like that. I have weird hobbies and quirks and I identify as nonbinary. But I've learned that the conventional law student is kind of a myth. During my 1L summer, I worked with a center that provides direct services to the LGBTQ+ community. One student wanted to start college without having to explain their preferred name and pronouns. Being able to help this student navigate the challenges involved was my wake-up moment. I realized that serving my community was something I could do.
Why is law so important?
Legal challenges present a lot of red tape and a lot of costs, and you can't fix the system without studying the laws that shaped it. In law school, I learned that we, as individuals, make change constantly. You just can't always see it when you're this close to the ground.
What inspired you to pursue law school?
I'm passionate about the law because it's an area where I can make change. I believe in fairness and justice. I know that just because it's equal doesn't mean it's fair. They're two different things. I want my work to help not just one individual but potentially hundreds or even thousands of people.
What does being indivisible mean to you?
To me, it means we agree on at least one major focal point. There can be differences on the edges, but we agree this one core thing is true and right.
What would you say to a college student who is thinking about law but isn't sure where to start?
Don't be afraid to try. And remember there will always be ups and downs. Anxiety, the fear of not doing well, and worrying that you're not going to meet the expectations of friends and parents are all normal parts of the journey.
What advice would you offer to someone getting ready to take the LSAT?
I recommend preparing as much as possible. It's a hard test. It's a time crunch, so it's important to train yourself to answer as many questions as you can in the allotted time. It tests your analytical skills, but it also tests your ability to deal with pressure, which is important. I ended up taking it twice. LSAC offers free practice tests and a number of other helpful test prep resources.