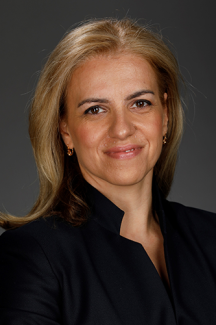 Ana Tavares is vice president and Chief Financial Officer for LSAC and leads LSAC's Finance & Accounting functions. Tavares' career spans more than 20 years of broad international experience and a strong background in finance and leadership.
Before joining LSAC in 2021, Ana served as vice president for Canon U.S.A., a global imaging leader. She spent nine years taking on increasingly broad responsibilities at Canon, becoming vice president of finance and accounting in 2019. Before that, Ana served in various complex financial roles at industry-leading global companies, including Bristol-Myers-Squibb, and Pall Corporation (Danaher). At Bristol Myers Squib, Ana took on leadership roles in support of key transactions such as the spin-off and IPO of Mead Johnson, and the divestiture of Convatec. At Pall Corporation, Ana led the strategy and execution of global shared services, and had finance leadership in growth initiatives.
Tavares earned her Bachelors and Licenciatura degrees in Accounting and Finance Administration from the Higher Institute of Accounting and Administration of Lisbon. Ana Tavares' areas of expertise include global shared services and organizational optimization, and she has spoken nationally and internationally on these subjects.