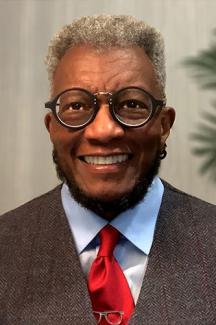 Jay L. Austin is the executive director of LSAC's Reaffirming Individuals Supporting Education ("RISE") Alliance which provides leadership and professional development support to student-facing law school staff by focusing on how the lived narratives and layers of personal identities of law school staff can be influential in building and retaining a legal education pipeline that adds to the diversity of the legal profession.
Prior to joining LSAC, Austin served as the senior associate dean of enrollment and financial aid at Rutgers Law School. He also oversaw admissions and financial aid at University of California, Irvine School of Law as well as the Azerbaijan Diplomatic Academy, Pennsylvania State University School of Law, University of Pennsylvania Carey Law School, and University of California Hastings College of the Law, and was an admissions officer at Columbia University School of Law and Columbia School of Business.
He has extensive participation on various committees and in leadership positions including president of the Black Faculty and Staff Association at UC Irvine and chair of the LGBTQ Board at the University of Pennsylvania. Outspoken about topics pertaining to the value of inclusivity, Austin has presented on a range of topics including the critical need to consider the narrative of the intersectionality of lived lives in admission policies and practices, and inclusion and diversity in institutional leadership. A favorite presentation title is It's More than Gender Neutral Restrooms — Empowering the Individual and Transforming the Institution.
Austin attended Columbia University, where he studied biology-psychology, and completed a postgraduate certificate in international management at University of Liverpool.