ABA President-Elect Judy Perry Martinez on Diversity and the Future of Law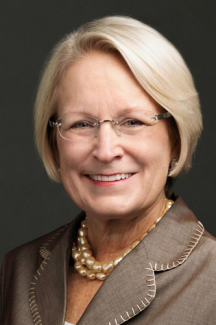 I recently sat down with Judy Perry Martinez, whose upcoming term as president of the American Bar Association is the culmination of more than 35 years of involvement with the 400,000-member organization. "I really believe there's been so much extraordinary work done by ABA leadership and staff in the decades I've been involved," she told me. "I look forward to working hard and doing what lawyers do best: building on the values and traditions of the past but looking to the future for what we know is needed to best serve the public."
As Martinez prepares to take the reins of the ABA this August, she and I discussed her background, her hopes for the future, and how LSAC and the ABA can work together to achieve our shared goals. This interview, which is part of our series on women making history and advancing equality in the legal profession, has been condensed and edited for clarity.
---
Testy: Judy, thank you for taking the time to talk today. First, tell me about your background and experience in law prior to your election at the ABA. What made you decide to enter the legal profession?
Martinez: I was born and raised in New Orleans. Frankly, I didn't think about being a lawyer at a young age, like you hear from some colleagues. I was sitting in a business law class as an undergraduate, and the professor told me to stay after class. I thought perhaps I had done something wrong, but he pointed at me and said, "You need to go to law school." Someone having confidence in a younger person can change that person's path, and it certainly did for me.
I really didn't know what I was about to embark on, but when I went to law school at Tulane University, I began to understand the opportunities a career in law would afford. It equipped me to be able to serve others — clients, of course, but also the general public. From Tulane, I went straight to a firm in New Orleans — Simon, Peragine, Smith & Redfearn — and stayed for 21 years. I was on the management committee and became the most senior woman at the firm. After that period of enjoyment and growth, I spent 12 years as in-house counsel in the aerospace and defense industry — at Northrop Grumman Corporation — later becoming vice president and chief compliance officer there. I left to go back to school, did a year in residence as an advanced leadership fellow at Harvard, and then returned to my firm in New Orleans.
Testy: What experiences in your career have most shaped who you are today?
Martinez: I'm grateful to have been able to see what professionalism looks like up close — whether it's from an opposing counsel, a co-counsel, a judge, a senior partner, or someone else I encountered. I once had the great honor of representing a man who was on death row in Louisiana. I came away from that experience with an understanding that giving our best, every day, is our obligation as lawyers. In that case, following nine years of representation, our client was executed. It is something I still live with each day. But I know we had a truly dedicated team and we did our best. Doing one's best may not be enough, but if you know you did your best, that's what matters to the client — and it should to you.
Also, simply being a woman coming out of law school in 1982, I learned that if I wanted something or believed I deserved something, I had to learn to ask for it and accept the risk of the answer being "No." Often, I was surprised at how generous people were and how much they wanted to support my career and see me grow. The experience of making those asks led me to unparalleled professional experiences that I never would have had if not for raising the question. It's up to lawyers, women and men, to do that, and to look for the solutions that make sense for us as individuals.
Finally, the many experiences and exchanges I've had via the organized Bar at all levels, particularly in the ABA, have greatly shaped who I am — whether it's speeches I've heard, panels I've participated in, or articles and papers I've sat down to think about. They've all made me a better lawyer and helped me grow, and they've helped me understand that our work is about the people we serve, not about us. Seeing the humility in others — whether they're prosecutors, or public defenders, or working for an NGO — helps us understand that.
Testy: Why did you decide to become a candidate for ABA president?
Martinez: I've been active in the ABA since the first year I started practicing. I got engaged at the suggestion of a lawyer at my firm, and I've participated at different levels over many years. I witnessed the many contributions of those who had served, and I concluded that the ABA presidency would be a year of service during which I could use my voice and energy to, hopefully, make real progress in the organization to which I had dedicated a lot of time.
So many people — in my family, at my firm, and within the local and state bar and ABA — had supported and mentored me that I thought it was time for me to step up and contribute. They had put themselves out there to support a profession they loved; I thought I should try to do the same.
Testy: What do you hope to accomplish as the organization's leader?
Martinez: It's not about what I accomplish on my own; it's about working with other leaders, and even more so, with lawyers in general, who are working in their communities. Our profession must champion the importance of equality and fairness, the independence of the judiciary, and the rule of law, and help wake the public up to what I think a lot of them take for granted about our democracy and how it works, and their responsibilities and rights.
I will urge lawyers to fulfill their individual duties as lawyer-servants by protecting and promoting our democracy and acting to make it better and stronger. And I want to rally our profession to do more than we've ever done to educate the profession on how they can be at their best. In short, it's about championing respect for the rule of law, and creating public dialogue about what's important today and for years to come regarding trust and respect for our justice system.
Testy: What are some of the biggest challenges facing the nation's lawyers today, and how does the ABA help them overcome those challenges?
Martinez: The ABA is the driving force that helps lawyers be their best, and we do that in conjunction with LSAC and other partners. We want lawyers to be as competent and ethical as they can be; the ultimate reason is that it benefits the public and the greater good. Through the ABA's CLE library, our conferences, and other resources, we give lawyers their edge. But our greatest asset, I believe, is our convening power. We bring together people who have different views about the law, the practice, the future, and other topics to engage in a civilized and high-caliber discussion.
In terms of the challenges we face, they include changing technology, changing methods of delivering legal services, and changing expectations by the public. We can either sit and watch those changes unfold, or we can harness them and make a difference in what's unfolding around us. I think the ABA is about making a difference, not just sitting back. We do that via some tried and true methods, such as teaching the public about the role of lawyers in society via Law Day and other initiatives, and some new ones, such as the value lawyer members will derive from the new ABA membership model that was recently rolled out. I think that very quickly, more and more people will realize that ABA membership is an essential part of being a good lawyer.
The bottom line is that all lawyers are facing these challenges, and that can be daunting for those thinking of entering a new profession. To attract the best and brightest into the legal profession, we have to make sure they understand what they can be as lawyers. That's what the ABA, in its next phase, is all about.
Testy: A major component of LSAC's mission is to promote diversity in the legal profession. How does that mission dovetail with the ABA's mission of defending liberty and delivering justice?
Martinez: Whether you're a judge, a lawyer, a clerk, a juror, a witness, or involved in legal proceedings in some other way, you are a part of the justice system. In fulfilling what we have promised the public, it's critical that justice is delivered through a system that people trust, because you can't get to defending liberty and delivering justice unless the public trusts the system. One critical aspect of helping them do that is to ensure that the justice system reflects the people we serve.
LSAC's mission fits hand in glove with the ABA's goal of diversity and inclusion in the profession. So there is a lot of opportunity for collaboration and good work by each organization to make sure that the road toward defending liberty and delivering justice is one that is available to everyone. Our two organizations have made progress, and there have been tremendous efforts by unnamed heroes who have fought for greater diversity in the legal profession, but I don't think anyone would suggest we've done enough. It's not about making sure you, yourself, get ahead; it's about making sure no one else is left behind.
A particular focus for me is our colleagues with disabilities. We have a ways to go before we demonstrate our commitment to diversity in their regard. The same goes for the LGBTQ community. It's an obligation that each attorney can fulfill in his or her own role — whether it's just showing respect to the people they meet, treating every person with dignity, or making time for a young lawyer who reaches out to you. That's how you foster trust and confidence in the profession and, ultimately, the justice system. That's how you understand that this is not "our" profession to invite people into; it is their profession to choose to join. From the beginning, that message must be sent loud and clear.
As I have an opportunity to work with LSAC and other organizations, I know we can make sure that message is sent time and again. There's no place I'd rather be to accomplish that goal than having the opportunity of leading the ABA.