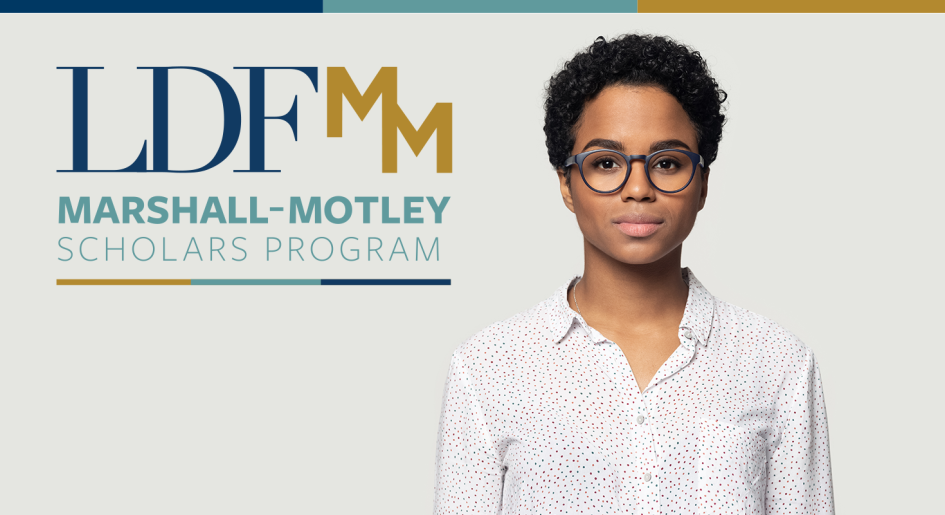 How the Marshall-Motley Scholars Program Creates Lawyers Fighting for Racial Justice
The Marshall-Motley Scholars Program
is much more than a scholarship opportunity for aspiring law students. Rather, the MMSP, established by the NAACP's Legal Defense Fund, takes an intentional approach to developing civil rights lawyers and placing them where they're needed most in the United States. Over a five-year period, the program recruits 10 scholars who have a unique interest in being civil rights lawyers in Black communities in the American South.
LSAC recently hosted a webinar to answer questions that potential applicants might have about this invaluable opportunity. Joining members of the LSAC staff were Jino Ray, director of the MMSP; Adria Kimbrough, the program's recruiting manager; and Briana Hayes and Kendell Long, two members of the inaugural cohort of MMSP scholars. Here's a summary of what we covered during the webinar.
Benefits and Expectations
MMSP scholars receive tuition for all three years of law school, along with money for relocation expenses, books, technology fees, and room and board — basically, all of the costs associated with attending law school. The program also offers professional development opportunities, such as internships with civil rights organizations in the South, to help students get an early lesson in the skills they need to succeed in this area of practice. Once the scholars graduate, the MMSP assists them with taking and passing the bar exam, then places them with a regional civil rights organization for a two-year fellowship.
Finally, the program supports these new lawyers for their first eight years of practicing civil rights law in the South. In total, then, the MMSP makes a 13-year commitment to its scholars, and the same commitment to fighting for civil rights in this part of the country is expected of them.
Who Should Apply
Anyone planning to begin law school in the fall of 2022 is eligible to apply, but the MMSP is specifically looking for people with a deep commitment to fighting for racial justice. Ray, the program's director, called the Marshall-Motley scholars an "insurance policy" to continue the work the LDF began in 1940 under its founder, Thurgood Marshall — who later became the first Black justice to serve on the U.S. Supreme Court. "We are looking and recruiting for people who are looking to commit to a life" of serving Black communities and working for racial justice, Ray added. International students are eligible to apply but would need to demonstrate their commitment to staying in the U.S. and practicing in the South, Ray and Kimbrough said.
The Application Process
Applying for the MMSP includes components similar to those of a law school application: a personal statement, an essay about your experience with racial justice, a résumé, a college transcript, a test score (LSAT or GRE), and three letters of recommendation. In addition, applicants submit a video in which they discuss how they're currently living the life of a Marshall-Motley scholar. "That is one of our favorite parts," Kimbrough said, because it gives the selection committee the chance to see the fullness of the applicant.
Hayes, one of the current Marshall-Motley scholars, said she felt like the application process had been made for her. "Sometimes, when we're applying [for other opportunities], we have to look for ways to stretch things and figure out how to apply them," she said. "I approached it by just telling my story."
Candidates can apply online
, and the program also provides an application guide (PDF).
What the Program Is Like
Hayes, who's attending University of Georgia School of Law, and Long, who's at New York University School of Law, both said they initially found tremendous value in the MMSP's financial support, which opened up more law school options for them. But since beginning the program, both have also come to appreciate their fellow scholars. "These people are my best friends, and I mean that," Hayes said. "We authentically love each other, and knowing you have that support across the country, you feel that love from afar." Long agreed, saying the diversity of identities within the cohort had made for a rich, rewarding experience. Both also have received numerous academic coaching sessions on topics ranging from exam prep to making outlines.
Post-Application Timeline
After the February 11 application deadline passes, the MMSP will select finalists by March and have the next cohort of Marshall-Motley scholars chosen by April. This aligns with the timeline for candidates to commit to law schools, so those who are selected will know it before they need to make a commitment.
We want to thank our webinar participants, and also the thousands of people who signed up to view this event. If you missed the webinar, you can find a recording of it on our website. For more information on the Marshall-Motley Scholars Program, visit marshallmotleyscholars.org
. Good luck on your journey!