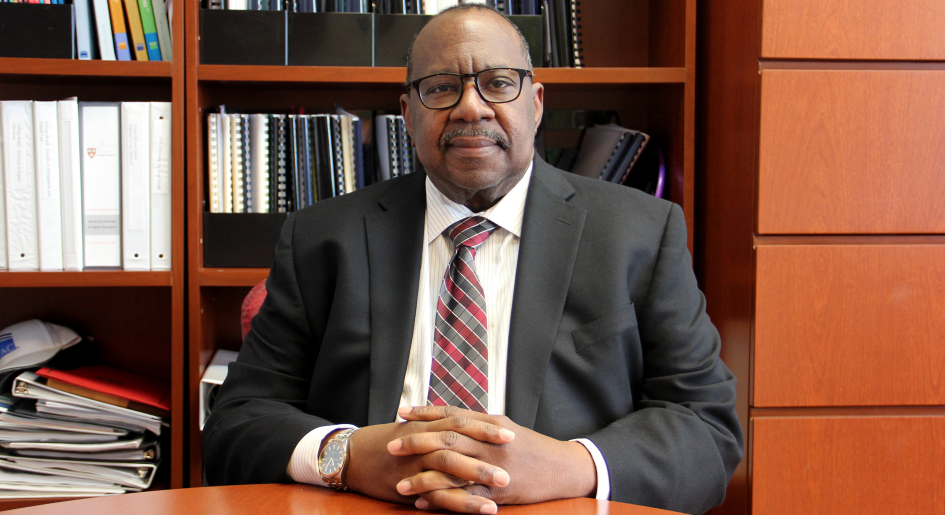 Living, Working, and Achieving While Black
The killing of George Floyd affected me strongly in two distinct ways: it conjured up traumatic memories of the many experiences I had as a black man growing up in the United States and it inspired me to reflect on my commitment to legal justice, my interest in legal education, and my work with the Law School Admission Council. My decision to pursue a law degree, and ultimately a career in legal education, are rooted in those experiences.
You should know that the events of the past few weeks reinforce the experience of practically all African American men and most African American women. I am a father to two African American males. Over the years, I have had many conversations with my sons about avoiding police brutality. Repeatedly, I reinforced the importance of a "proper" relationship with police. These conversations reflected my perpetual fear of what might happen to them. My instructions to them included: when driving, keep your hands on the steering wheel; if you get pulled over, do not rush to open compartments; treat the police officer with respect. Sadly, I was able to point out numerous examples, while they were growing up, to illustrate the importance of knowing how to behave if they were ever confronted with these potentially explosive situations. My sons' teenage years were so difficult for me that I could never go to sleep at night until I knew they were home safe. There are countless stories I could tell about this, but I also have much to share about my experience living, working, and achieving while black. I will begin with some personal history and then share some stories of my professional life in legal education, up to and including my work with LSAC.
Growing Up in the Civil Rights Era
I was nine years old in 1963 when I found out about the church bombing in Birmingham, Alabama, that killed four black girls not much older than I was at the time. My Sunday school teacher announced the news in class that day, and I will never forget the shock I felt. The following Sunday, I went to my first civil rights protest when our pastor, along with a pastor from a predominantly white congregation in Springfield, Ohio, organized a march and rally in our downtown area. Many years later, when my son enrolled in Birmingham's Miles College, my heart sank as we rode past the church that is now part of the Alabama Civil Rights tour.
The biggest advantage I had as a child was growing up in a community that was a neighbor to two historically black colleges: Central State University, where my mother worked in finance, and Wilberforce University, a part of the African American Episcopal Church where I still am a member. I recall attending a convocation where I had my first opportunity to hear Martin Luther King, Jr. speak. The second time I heard Dr. King was at a church convention in Columbus, Ohio, a year before his assassination. Central State and Wilberforce gave me a chance to observe and meet black intellectuals and learn about black history. They also inspired and developed my lifelong commitment to historically black colleges, and motivated me to develop and expand programming that would reach out to students and prelaw advisors at those institutions.
Growing up as a black kid in Springfield, Ohio, was filled with reminders of inequality and racism in America. The recent publicized deaths of black men and women brings back my first understanding of our society's presumption that black men were more likely to be a threat to society. One day, when I was in high school, I went to visit my grandmother — and found her distraught. She had just received a call that my cousin, her oldest nephew, had been shot and killed by a security guard in a local bank. Apparently, after a verbal argument with a bank teller, my cousin reached into his pocket to get his identification, and a security guard shot him because he believed he had a weapon. There was no weapon. And the guard was never arrested or prosecuted. People outside of the black community believed the security guard's actions were justified in the situation.
My College Education
Before I went to law school and before becoming a lawyer, I worked as a newspaper reporter. I had been nominated by my high school journalism teacher for an internship with the Springfield News and Sun. I worked at that newspaper for five summers during my high school and college years, and then in the eight months between college graduation and my first year in graduate school. My editors were disappointed when I told them I intended to leave journalism to pursue degrees in law and business. However, it was one of my experiences at the newspaper that reinforced my intention to become a lawyer. While I worked the police beat, especially at night, I often observed how our local police mistreated, harassed, and roughhoused black people when they took them into custody for various crimes, from traffic violations to prostitution. I also recall seeing a white businessman, arrested for drunk driving, housed in a separate area of the jail to keep him away from the presumed mistreatment by black prisoners. I knew then, from my personal observation, what would later be reinforced by my own experience while I was a law school student and, later, a lawyer — that racist behavior permeated law enforcement in the United States.
In the personal statement that I included with my law school application, I wrote about what I had seen as a newspaper reporter. Everyone who I asked to read my personal statement in advance told me that this motivational story was unique and would definitely impress admission committees who read it. That was comforting because — at the same time — my prelaw advisor at Brown University was telling me that I "had good grades and was black" so I would have no problem getting into law school. His comments were offensive, and I found other advisors to help me with the application process.
Law school brought its own particular style of racism. There were racist comments in the classroom. There were occasions where I had to read clearly racist court decisions, which are part of our long legal history. There were times I was singled out in class to discuss cases involving black people. I could share numerous anecdotes of subtle, and not-so-subtle, racism in the classroom at law school. But, more to the point, let me share two more dramatic events where my treatment by local police could have easily ended badly, with me being a victim of police brutality like George Floyd.
The first incident occurred when a business school classmate and I were returning late one evening to the apartment building where we both lived. We were carrying briefcases and groceries that we had picked up on the way home from school. We went to the building entrance, I inserted my key into the lock, and began to open the door when suddenly we were flooded by flashing police lights. We heard, "Stop, turn around, and put your hands on the top of your head!" At first, I didn't realize that they were talking to us, but my friend urgently said we had better do exactly what the police officer requested. The officer came over and, even though I had my key in the entrance door, asked us for our IDs and made us sit on the curb in front of our building while they confirmed our identities. After about 30 minutes, he released us. He never offered an apology.
Two years later, when I was heading home from law school, I encountered a police SWAT team conducting a building raid and blocking the street to traffic. Accordingly, I pulled over to the side of the street so I could alter my route. The next thing I heard was an officer saying, through his car loudspeaker, "Pull over and get out of the vehicle." (In Chicago, the police speak to people they pull over through loudspeakers.) He ordered me to put my hands on my car, he frisked me, and then he conducted a visual inspection of my car, while I was made to stand there, hands up. He made inappropriate comments that I believe were designed to arouse my anger. I politely told him that I was a law student at Northwestern and was on my way home. I suggested he check my ID; he then snatched my wallet from my pocket, and after about 45 minutes, he let me go. I later found out that the officer had entered my Ohio license plate incorrectly and got the profile of someone wanted for theft in several states. This haunts me: What if I had resisted this stop knowing I had done nothing wrong? What if I had expressed my outrage with the cop who saw that I was entering my apartment building with my own key? Would I have ended up like George Floyd?
So many of my experiences in both law school and the legal profession confirmed the prevalence of racism in the United States. I began my career in legal education in Louisville, Kentucky, a place that is filled with such memories. Institutional racism presented so many obstacles to any progress toward racial and ethnic diversity at this once segregated law school.  I think about my administrative assistant, who was the spouse of a famous black graduate of the University of Louisville School of Law. During his student days there, the law school was officially segregated, and each professor was tasked with designating the space in the classroom where black students had to sit. 
A Focus on Legal Education
When I began to focus my career on legal education, the impact of the Law School Admission Test on issues relating to diversity was both direct and indirect. At Louisville's law school, there was a "cutoff" LSAT score set by the admission committee, and no one could be admitted if their score was lower than that cutoff. The result was such a low black enrollment that the Louisville chapter of the National Bar Association met with the president to express its disappointment and to encourage change. During my tenure there, I was able to successfully increase black enrollment, but it wasn't until I joined LSAC that I learned that the organization did not support the use of cutoff scores. In addition, prelaw advising at the university was segregated. There was an excellent administrator in the African American studies department who was a lawyer; he advised the majority of black Louisville students seeking legal careers. However, the officially designated prelaw advisor at the institution — a white political science professor — was, at that time, the most knowledgeable about test preparation and admission to law school. I dedicated some of my time to encouraging this "official" prelaw advisor to work with all students and to making sure that my colleague in the African American studies department was also equipped with up-to-date information to advise students. This experience helped me appreciate the importance of equal access to information and training that could enable all prelaw advisors to equally assist all student advisees.   
Later when I joined the faculty at Ohio Northern, the law school had just had their sabbatical site inspection by the American Bar Association. The very critical inspection team said that the law school needed to raise their median LSAT scores. This was not in the official report but only in the informal conversation that site teams had with the dean before they left. Raising the median LSAT score became one of my responsibilities. One of the measures of my achievement at Ohio Northern was my success in raising the median LSAT score while also improving diversity for each entering class every year of my tenure. The president was pleased, but the white prelaw advisor became upset when his mostly white underperforming students could no longer count on automatic admission to Ohio Northern. (Just think if a prelaw advisor felt that same passion for helping black students!) While I increased minority student enrollment, raising the median score made achieving those increases more difficult. This was because if the median score for black students, as a group, was lower than the median score for majority students, then focusing on the score alone would negatively impact minority enrollment. 
At both of my law school appointments before I joined LSAC in 1992, there were so many other experiences that forged my commitment to LSAC's mission and goals. Bear in mind that, in both of those prior positions, I was either the only or one of two minority faculty and administrators. Accordingly, I functioned as the recruiter, advisor, counselor, tutor, and mentor to most black students. All the while, I had the same responsibilities as other faculty members. I came to LSAC on a two-year leave of absence because I was not sure I wanted to leave law teaching. If, after my two-year leave of absence to come to LSAC, I would have returned to Ohio Northern, I was going to be the associate dean of students as well as a law professor. My career in legal education was focused on the increase of minority enrollment and the success of minority students admitted to law school.
Working with LSAC: A Continued Commitment
Legal education has changed over the past 27 years, and LSAC's commitment to legal education has changed and grown as well. Below are some of the initiatives the organization has been involved with, whether leading or supporting, to help the legal education community advance equity and diversity in law school and the legal profession.
CLEO and PLSI. LSAC helped found the Council on Legal Education Opportunity (CLEO) in 1968 and has been a supporter every year since. When the Bureau of Indian Affairs of the U.S. government discontinued financial support for the American Indian Law Center, LSAC jumped in to make sure the center had sufficient resources to run its well-regarded summer law program, the Pre-Law Summer Institute (PLSI) for American Indian and Alaska Native law students. CLEO and PLSI are responsible for the addition of thousands of lawyers from underrepresented minority groups. Many judges, Congress people, and lawyers owe their successful legal careers to these organizations, including the current chair of the LSAC Board of Trustees.
Academic Assistance. In response to deficiencies identified during the 25th anniversary of CLEO, LSAC launched the Academic Assistance initiative in 1992. This initiative included research, publications, and conferences dedicated to creating and sustaining the position of academic assistance professionals. The initiative later expanded to bar passage concerns.  Today, the Association of Academic Support Educators is an organization dedicated to academic support faculty and administrators; it regularly hosts conferences on skills training, learning styles, measuring program success, and the importance of diversity, equity, and inclusion (DEI). Organizations like the ABA acknowledge that a good academic assistance program is essential for students who need help ensuring their success, and that LSAC has played a significant role in launching these kinds of programs.
HBCUs, Fee Waivers, and More. LSAC has a long-standing commitment to historically black colleges and universities (HBCUs) and colleges with substantial enrollment of Asian American, Latinx, and Native American students.  LSAC has held conferences for prelaw advisors, presidents, and faculty at these institutions to help develop students' interest in and qualification for legal careers. LSAC's fee waiver program — now open to any student in need — began as a program for HBCU students. In addition to supporting prelaw advisors, LSAC also subsidizes student attendance at law school forums, making the Atlanta forum the LSAC event attended by the largest percentage of African American students.
LSAT. Once viewed by minority groups and others as the barrier to those students seeking legal careers, the Law School Admission Test has changed significantly since 1992. Thirty years ago, most of the information available to minority students was inaccurate and filled with urban legends about the test. Famous minority law faculty members wrote about the "admission shutout rate" to emphasize the low scores of black students. The test was modified to lower the difference in test performance between minority and majority candidates from 1.5 to 1 standard deviation. LSAC has worked hard to make sure the test questions are fair and that the test is administered without bias. For instance, all test questions must pass through a rigorous vetting process before they are then tested in the unscored section of the LSAT to ensure they perform fairly across different groups of people. Whenever the response to any test question is statistically different for any group of test takers, a team composed of testing and research staff examine the question to determine if it needs to be removed from the "bank" of LSAT questions. This is called DIF analysis, and it is performed to ensure that there is no score impact based on ethnicity, gender, or other status. LSAC has also invested significant funding in test prep materials to help all candidates, including candidates from underserved groups, reach their highest potential. The launch of Official LSAT Prep delivered by Khan Academy, a leader in online education, is a groundbreaking commitment to helping students prepare for the LSAT.
Diversity Officers. There were no chief diversity officers in law schools in 1992; now there are many administrators who have this responsibility. LSAC has sponsored training conferences and provided other support to these chief diversity officers and admission professionals to assist them in their DEI efforts.
Communications. LSAC has, over the years, improved communication vehicles in print and online, including social media. The organization's communication to underserved candidates began with publications like the Minority Guide to Law School, the first handbook specifically targeted to applicants from underrepresented racial and ethnic groups. Next came MILE (Minorities Interested in Legal Education), which led the way to the development of DiscoverLaw.org. Publications were later expanded to include all minority groups. Specialized videos highlighted racial and ethnic minorities and LGBTQ+ individuals, with a conscious inclusion of students with disabilities. One of the strengths of these kinds of videos is that they profile a diverse set of law students and lawyers sharing their stories in their own words. The goal is to inspire people who can see themselves in these stories to pursue a legal education while offering support along their journeys through comprehensive information and resources.
Research and Data Publications. The original study of bar passage, and its results and causes, was conducted by LSAC over 25 years ago and it is still widely cited. Today, LSAC has so much more research to offer member law schools regarding all facets of diversity. Research is ongoing, with many more tools and resources to conduct longitudinal studies and focus on special factors like COVID-19 impact and other issues.
A Wider Tent. LSAC recognizes that the diversity tent includes many groups — not just students of color, but also LGBTQ+ students, first-generation students, disabled students, and other groups. We learned so much from programs designed for minority students. Those early lessons helped LSAC expand its programming, while simultaneously recognizing that every group under the diversity tent has singular needs that require distinct attention.
Grants. The support of diversity initiatives through grants remains one of LSAC's hallmarks. The original one-time-grant program has been expanded to support conferences, help organizations that share LSAC's commitments, partner with sister organizations, and most importantly help our schools achieve DEI goals. In particular, our Prelaw Undergraduate Scholars (PLUS) Program grants provide funding for schools interested in hosting PLUS programs, which are designed to increase the number of lawyers from underrepresented groups by introducing first- and second-year college students to the skills important for success in law school. Another example is our Diversity Matters grants, which assist law schools in hosting events that motivate students who are underrepresented in the legal profession to consider law as a career.
Partnerships. Working with sister organizations extends beyond merely the bestowing of grants. LSAC's influence is legendary. Organizations we have worked with over the years include the ABA and its many divisions, the American Association of Law Schools (AALS), AccessLex, Legal Outreach, the National Association for Law Placement (NALP), Just the Beginning Foundation, the American Bar Foundation (which is the research arm of the ABA), Street Law, minority bar associations and specialty bars (like the LGBT Bar), several state bar associations, and even local bar associations in cities like Philadelphia and Chicago.
Training Conferences and Workshops. LSAC continues to host conferences and workshops for numerous organizations, prelaw advisors, law school administrators, minority law teachers, youth events at bar associations, law school diversity officers, and others on a wide range of topics including academic success, bar passage, LGBTQ+ issues, disability accommodations, and so much more.
My Hope for the Future
I hope that all of us in legal education will …
     … continue to recognize the importance of the educational pipeline to law school, work to remove barriers to that pipeline, and promote opportunities for targeted populations from grade school through law school.
     … continue to expand the diversity tent, but at the same time realize and appreciate the fact that each group has special challenges and issues. From my work with various groups in our diversity tent, I know that one size does not fit all.
     ... realize that, in addition to the challenges of race, disability, sexual orientation, gender identity, and economic disparity, the future will be strongly influenced by any inequality in educational access and the digital divide. Development of online programming is great, but it may not be available to all and it may not always be the best substitute for individual advising and training.
     … realize that the LSAC grant program is unique and one that has made LSAC a major DEI player in law schools and other organizations. Due to limited resources, you must develop a methodology and evaluation system to ensure that grants are awarded equitably and that the funded programs are effective.
     … use our expanded abilities to track students so that we can devote more attention to data collection and analysis, especially longitudinal studies of our student groups, programs, and other activities.
     … continue to support organizations that share our commitment to diversity. Financial support is key but so is sharing information and expanding partnerships, where beneficial.  These organizations include the Minority Network, which was founded over 30 years ago as a support group for minority admission professionals.
     … make sure that one primary objective has to be to motivate students by convincing them that the legal profession is necessary and valuable for all of us, that justice and equality are essential and worth fighting for, and that law school is accessible to all students.