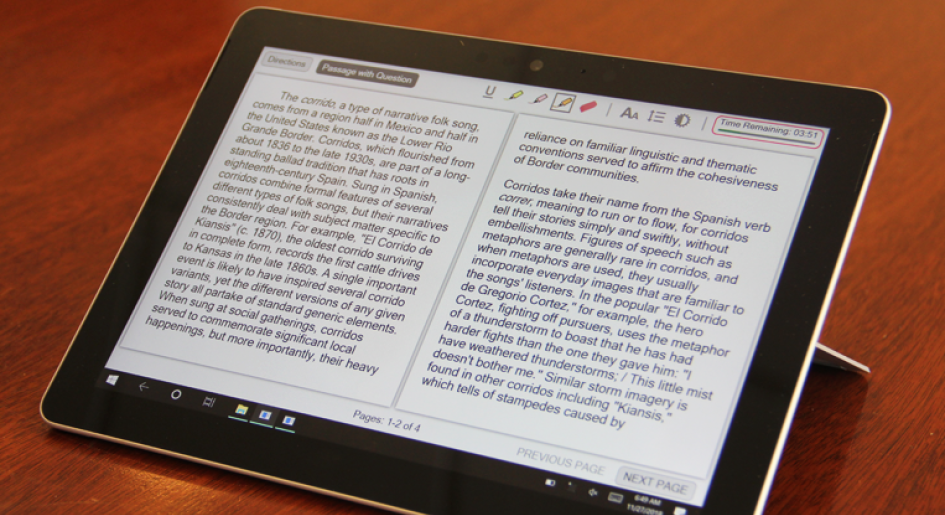 Looking Back on the July Digital LSAT, and Forward to September
The Digital LSAT launch was July 15, and we've been busy gathering and analyzing feedback for the past month. The Digital LSAT is the next generation of digital assessment and offers significant benefits over other computerized methods given in commercial testing centers that carry higher security risks and less accessibility. While the core aspects of the Digital LSAT launch went well, as with any new technology, there are opportunities for us to learn from this initial launch and further improve the test day experience for law school candidates.
We have surveyed everyone who took the July exam and are using that feedback to understand what worked well AND what needs improvement. Some of what test takers really valued included:
Many test takers noted that while they may have gone in hoping for a paper test, they ended up liking the Digital LSAT better than the paper test. One important

reason was that they found it easier and faster to select answers with just a single click instead of finding and filling in a bubble on a separate answer sheet.

Test takers appreciated how easy it was to flag questions and come back to them with the digital format. Many also said they appreciated having the time remaining visible in the upper right-hand corner and getting the five-minute warning directly on the screen.

We also heard positive feedback on our digital familiarization tools and free practice tests; we'll be adding a new

practice test to our website in anticipation of the September Digital LSAT.
In terms of suggestions for further improvement, we are working on the following issues raised by test takers:
Registration at some test centers took longer than normal, but we are working with supervisors to make that process more efficient at sites where delays were reported.

Some test takers reported that various hardware matters could be more user-friendly, including the sensitivity of the stylus, highlighting options, and freedom to adjust the angle of their tablet to reduce glare from overhead lighting. We are reviewing options to see if we can further improve these aspects of the equipment so that test takers get the full benefit of the digital format.

We also had to reschedule the test at two of our 203 digital test centers (across seven time zones), affecting 78 test takers. While we, of course, seek no test day disruptions, in the event they occur, we will always work with the affected individuals to make things right. These two centers were quickly rescheduled; test takers were also given the option of selecting a future test date if they preferred to do that rather than the rescheduled date.
We are using all the feedback from test centers and test takers to improve the digital experience for future test administrations. We won't be satisfied until every test taker has a smooth test experience. 
Next Steps
The Digital LSAT is a major transition that will increasingly provide major benefits to test takers as well as the legal education community. Of particular interest to test takers, over time the digital test will allow us to make scores available more quickly. Even on this first administration, for which we allocated more time for scoring than usual due to our need to research, analyze, and compare the digital and paper-and-pencil scores, we have been able to shave off time from our initially published score release date of August 28. Test takers will now get their scores on August 21. As we gain more experience with this format, we expect scores to speed up even more.
I want to thank all the LSAC staff who worked so hard to create the Digital LSAT, and our test center personnel who diligently trained for this unique administration — and continue to train for the all-digital tests in September and beyond. I also want to thank Microsoft for their extraordinary commitment to this collaboration, and for their shared commitment to the security, accessibility, and integrity of the assessment process.
Most of all, I want to thank the almost 23,000 test takers who took the plunge with us and helped launch the Digital LSAT, a major milestone that was many years in the making. We are here for you and thank you for your commitment to law and justice. Keep your passion — our world needs your voice!