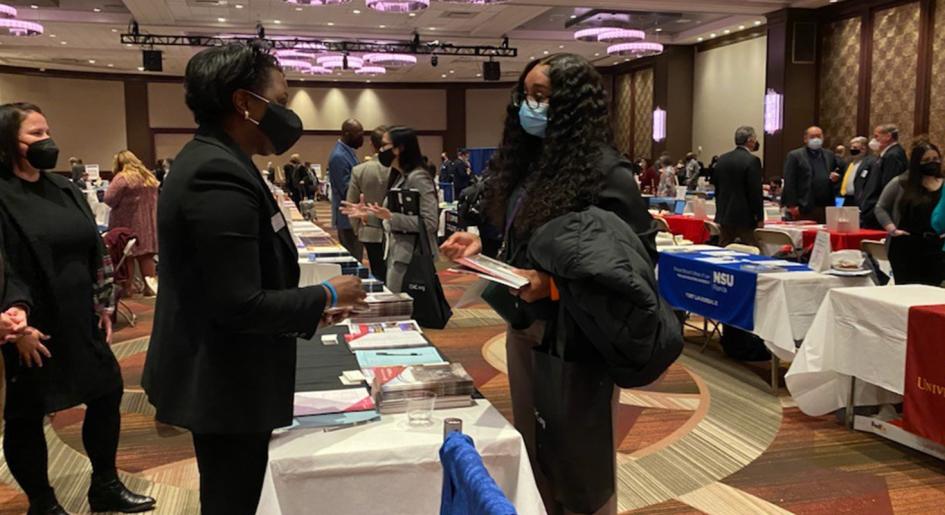 Q&A: Hybrid Approach Paying Off for LSAC's Law School Forums
By Noah Austin
There's nothing quite like the LSAC Law School Forums, which give law school candidates a chance to meet with more than 100 schools and learn more about the path to a law degree. But the ongoing COVID-19 pandemic led to the forums for the 2020-21 admission cycle being moved to a digital format. For the current cycle, LSAC is employing a hybrid approach with a mix of online and in-person events. We spoke with Gisele Joachim, executive director of education and ambassador programs, about how this year's forums have gone so far and what candidates can expect from upcoming events.
For students and candidates who aren't familiar, what are the LSAC Law School Forums, and what kinds of things do they offer attendees?
The forums are educational opportunities for candidates to learn not only about individual law schools, but also about the journey to applying to law school and the many programs and services that LSAC offers to help them on that journey.
Last year, the forums were held entirely online because of COVID. What were the challenges in moving to a digital format, and how did the events turn out?
At a digital forum, candidates have many more opportunities to explore links, downloads, and all the other resources that can be made available in that format. The digital events also make the forums accessible to people who might not be able to travel to an in-person event. The downside is that there isn't the same level of personal interaction that they get at an in-person event. There are chat functions, and many of the school booths also use Zoom to connect with candidates, so that helps. But I think all of us have found during the pandemic that even with those tools, it's not the same as meeting somebody in person.
Tell us about the forums schedule for this admission cycle.
We're running both digital and in-person forums this year. The season is bookended by digital events. The first was on September 10, and we also have one on December 4, at the end of the traditional recruitment season, and one on February 5. In between, we're holding in-person forums in five major cities: Chicago, San Francisco, Atlanta, and New York, which have already happened, and Los Angeles, which is still to come. Because of the advantages of both formats and the different experience you get at each, we're encouraging candidates and schools to use the digital and in-person forums as complementary experiences. Everyone who attends an in-person forum also gets access to the digital forum platform, so they can go home afterward and use that to get even more information.
What was behind the decision to go with a hybrid approach this year?
We do surveys after every forum, and there was a strong desire for us to use both formats. People did like certain aspects of the digital forums, such as the ability to extend our reach beyond the traditional cities and the ability for international students to easily attend. But a strong majority also wanted some return to in-person events. There was a feeling that the personal interaction you get in a face-to-face situation can't be matched by the digital platform. Now that we're halfway through the in-person set, participants — both school representatives and candidates — are really enjoying getting out and meeting people again.
What can attendees expect from an in-person forum this cycle, and has attendance bounced back to pre-COVID levels?
One thing that's important to mention is that we have strict COVID protocols, which vary from city to city. We've also changed the structure of the forums. Candidates now enter in a timed entry cohort, which allows us to control the density of people in the room. They start by attending a single workshop, rather than multiple workshops throughout the day. They then go into the ballroom with the law school booths, which are more spaced out than in the past. Their final stop is what we're calling the Resource Room, with a variety of LSAC- and volunteer-staffed tables with more general information about financial aid, LSAC LawHub® test prep, and those kinds of things. In terms of attendance, Chicago's forum was higher than the last forum we held there, while San Francisco's event was a little lower. That said, attendance has been strong overall.
Looking ahead to the 2022-23 cycle, do you think the forums will continue to be held in both formats?
That's undecided right now, but I think we probably will continue with some sort of digital presence. We also will continue with in-person forums and likely add a couple more cities. In the past, we've held forums in Washington, D.C.; Miami; Boston; and Toronto, for example.
What else should candidates know about the forums?
There's really nothing like them — pre-COVID, post-COVID, period. Individual law schools may run their own law fairs and offer other opportunities, but there is nothing like the LSAC Forums in terms of their scope, their reach, and what they offer, both in person and digitally. The number of law schools that participate, the strength of the workshops we present, and being a one-stop place to get a ton of information really sets these events apart.