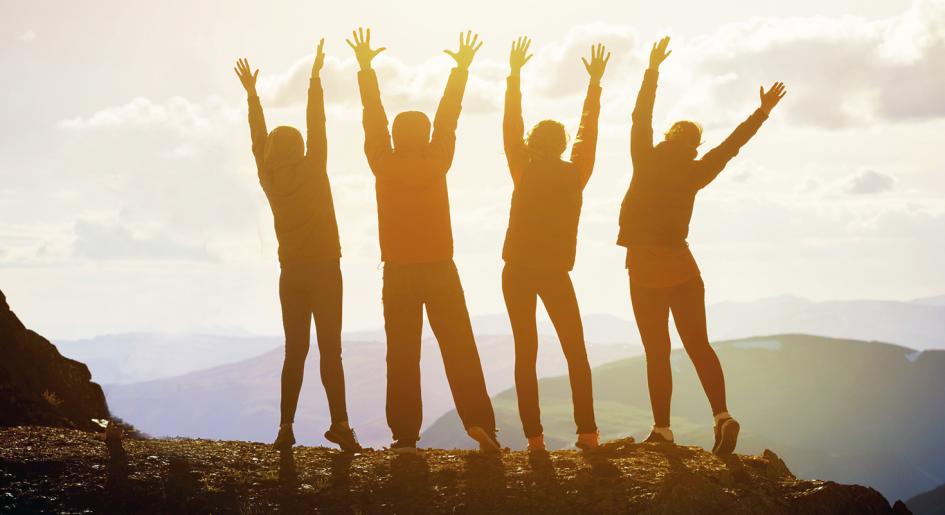 Standing Stronger Together We Can Build a Better World
EDITOR'S NOTE: John Valery White is Ralph Denton Professor of Law at the University of Nevada, Las Vegas, William S. Boyd School of Law and the new Chair of the LSAC Board of Trustees. Below are the remarks he delivered at the 2021 LSAC Annual Meeting.
It is a great honor to take on the responsibility of chair of the LSAC Board of Trustees. I do not take on this obligation lightly. So many are reliant on the work we do, from applicants who seek to be lawyers, to the law schools that rely on our services, to the legal profession that many of us believe so central to our democracy. 
I am also very aware of the rapid transformation of the world that LSAC serves and the sector in which LSAC operates. Cascading change is transforming the work we do, the role of law schools, the nature of the profession and, as a result, people's expectations of us. It is a daunting time to take on this role, but I do so eagerly because I believe in us — all of us, standing stronger together.
I want to talk about three things related to change and LSAC. 
First, we must take responsibility for change. Change is inevitable — particularly in moments like this when it is brought on by the confluence of so many things at once. But we must work to ensure that the change we get is the right change. For us, that is change that fulfills our mission to promote quality, access, and equity in law and education worldwide.  
Second, knowing what the right change is requires understanding ourselves and the profession we serve. It requires acknowledging sometimes unflattering things about who we are — things that are difficult to change.  
And third, we must know what shouldn't change.
Let me take these in reverse order.
First: ln a world of change one needs to know what is important and strive to keep it. For LSAC it is our support for the admissions community and the member schools we serve.  
Our efforts to develop and launch the Unite platform — a new, powerful platform that delivers enrollment management capabilities in an intuitive and streamlined manner, integrates powerful CRM and candidate marketing capabilities, and includes industry-leading privacy and security features — are about ensuring that admissions professionals have the tools to succeed and the information about applicants that is critical to that success. We have launched LawHub to promote community between prospective applicants and the parts of our community that support their preparation for the LSAT. We expect to explore other ways to utilize LawHub to improve the pathway to law school and to the legal profession. And in all these efforts we are here to support the admissions community in its professional development, networking, camaraderie building, and career advancement.
Along with our support of you, we stand to support our member schools. For this is a time of change for them too. New programs, new delivery platforms, new ways of defining and educating legal professionals are changing the law school universe as we know it. And LSAC plans to help. We are uniquely positioned to provide assistance and will be exploring how we can do so. 
Second: To contend with change, we must take inventory of ourselves, our profession (legal education) and the broader legal profession of which we are a part. We should be proud of that profession, its service to our democracy, the rule of law that makes that democracy possible, and the commitment to rights that buffers the excesses of the majority. We are "essential workers" of a just society.
On a more discrete level, a legal education has provided a way for individuals to build a professional career that can be rewarding, especially as it enables them to serve their community. Significantly, ours is an honorable profession, no matter the lawyer jokes. We serve people, helping them overcome troubles, guiding them through the tough moments in life, in a client-led, decentralized way that is consistent with American individualism and yet quite different from a "might-makes-right" world without rules. As lawyers we hold people's lives in our hands and that puts pressure on legal education and the admissions process that you help guide.  
There is another side to our profession, though. We are elitist, competitive, sometimes not compassionate. I could go on. In our conference on the profession after the pandemic we saw lots of complaints about what we do and how we could do better. We must know and own our limitations; they define our world as much as the honorable elements of our profession.  
As we work to respond to the impetus for change we must be aware of who we are — the good and the bad — for much of it is resistant to change. Without this understanding we might be driven to change that is ineffective or counterproductive, making things worse.
Third: Change is constant, ongoing, and inevitable.
Those who know me know that my father was a civil rights attorney who worked in his home state of Louisiana through the height of the civil rights movement. I have always been inspired by his example and his work to change his world. Becoming an attorney when there were few Black lawyers in the state, he became a cooperating attorney with the Legal Defense Fund and for decades worked on school desegregation in several parishes neighboring our rural home. Whether protesting segregation, trying voting rights and desegregation suits, or just representing poor people in court, my father represented all that a lawyer could be for his community in his time. Throughout, his focus was on opening opportunities for members of the poor, rural, Black community in which he had grown up, and for all those marginalized by a segregated, exclusionary society that seemed to depend on poverty for its success. For my father's generation the hurdles to success were significant, overt, and numerous.[1] Looking back, what change required of him seems simple, though I'm certain it never was.
My generation, the one after the civil rights movement, was never going to duplicate the foment and struggle of our predecessors; nor would we face the obstacles they battled to overcome.  But we would need to be focused to seize the opportunities they created, discipled to ensure that our efforts were not mere self-aggrandizement, brave to withstand the ongoing backlash that would dominate our youth, and for some, lucky to not get caught up in the drug wars. 
Ours has been a patient, incremental generation. And it is hard to ignore the signature successes of our generation, whether, for Black Americans, it is the two attorneys that became President and Vice President in the span of just a dozen years or, closer to home, the 27 Black women deans that today lead American law schools.[2]
Part of what made for the successes of my generation in law and leadership was the professionalization of law school admissions led by LSAC. My father attended the newly created law school at the HBCU from which he had just graduated. He took no admissions test. On the other hand, he was one of just four graduates from a class of 35. And at that time in Louisiana, becoming a Black lawyer meant leaving the state or taking up this new risky opportunity.  
In the intervening years, as segregation faded, the development of the LSAT permitted talented applicants to be identified outside the narrow class, racial, and regional networks that defined law school admissions until then. The timing of this development was critical, as the legal profession would soon begin a consolidation that would stratify the practice of law, even as it ushered in an unprecedented growth in legal work, hours billed, and revenues generated. That is, opportunity in law increasingly turned on the ability to access national and regional law firms and government appointments disproportionally drawing from "national" law schools. In other words, we became more elitist.
By now we are all aware of the winds of change blowing around us and likely understand that people are increasingly unimpressed with the achievements of my generation. Frustrated with the decades-long reversal of civil rights era gains — in school segregation, in poverty levels, in protection from discrimination in hiring, but especially with police abuse — a new generation of activists has emerged who are not prepared to tolerate racism, sexism, and homophobia.
This generation comes to social justice issues with a belief that the world should be, must be better. They are, in a way, more optimistic than those of us committed to step-by-step progress in the years after the civil rights movement. While my generation saw the benefits of commitment to an incremental change, we were always assuming the ongoing grip of the segregation era that our predecessors worked to break. This generation demands a better world and refuses to be bound by the remnants of the old order.  
Concern over persistent inequality motivates this new activism, which is recently doubtful about meritocracy. The manipulation of meritocracy to support inequality has turned many against the very professionalization of admissions that many in my generation deeply value. Informed by examples of tech-based transformation of legacy industries based on disruption and the customer-centric responsiveness of technological solutions, calls for change seem to have become antagonistic to the kind of science-informed, ordered, professional processes that have characterized law school admissions. And for those of us who understand the equity and inclusion-rooted history and mission of LSAC, the successes of professionalizing admissions, and the opportunity-creating attributes of well-designed assessments, this is all a bit disorienting.
But we need not despair. These two generations, with their different perspectives, are presently inheriting our world and must combine our efforts to address the many problems that characterize our times. We need the institutional commitment of my generation along with the urgency of today's activists. We must be careful not to destroy the institutions that my father's generations fought and sacrificed to access. But those institutions cannot be sacrosanct either. 
For LSAC these competing forces define our new reality. Change is not coming — it is here. And our obligation is to guide that change to ensure that the institution that has emerged over the years survives. We must ensure that we continue to support and promote professionalism in law school admissions, that we continue to supply the infrastructure for ensuring access and inclusion to law school and the profession, and we continue to furnish the basis for just allocation of valuable opportunities like legal education. Yet our history as an institution built to promote access and inclusion in the profession, our history of developing the best assessment tool for law school admissions, and our history of supporting pipeline programs — that history — is not a reason to resist change. We need the institutional commitment and we need the urgency to change.  
Much has happened in just the last few years and other developments can be expected. LSAC has a wonderful staff, committed to the mission of the organization and working to capture the energy of our times while preserving all that we have come to value in LSAC — professionalism, high quality products, and service to our members. We have a board that can bring insight to this change, and we have an admissions community that is capable of responding to new demands while preserving the professionalism that has helped legal education thrive.  
In other words, we are ready for this. Standing stronger together, we can build a better world. Welcome to the generation of change!
---
[1] He was the first of his siblings to go to college – he was only the third of his ten older siblings who had an opportunity to attend high school, such was the nature of separate but equal in 1940s and 1950s Louisiana. After the army he attended the new law school at the HBCU from which he had earlier graduated. Three years later he was among four of the initial 32 students who finished, and he was admitted to the Bar on a diploma privilege.
[2]True, there is work to do; as our Chief Diversity Officer noted, there is just too little representation of minorities in our profession. But I start from a world where my father, in 1963, became one of fewer than 50 Black lawyers in Louisiana, and one of just a handful outside of New Orleans.