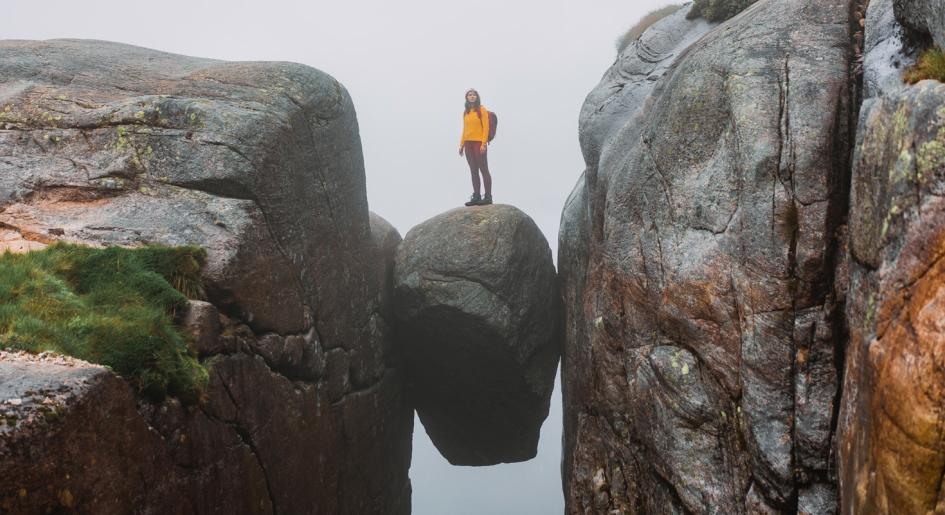 Is There an Enrollment Cliff, and Will it Affect Law School Admission and Enrollment?
The short answer to this question is, it's complicated.
The word "cliff" has been used to describe projected undergraduate enrollment in the United States. Cliff is a word that inherently contains a fair amount of drama, visually and otherwise. A cliff suggests an inevitable plunge. Lemmings commit mass suicide by jumping en masse off cliffs into the sea, right? Turns out that's a myth

perpetrated by a 1958 Walt Disney film, "White Wilderness," during the filming of which lemmings were actually thrown off a cliff into the ocean by the Disney filmmakers. The portended undergraduate enrollment cliff is not a similarly synthesized myth, but the rhetoric around it has definitely been inflated.
It is true that because of lower birthrates during the Great Recession, which lasted from roughly December 2007 to June 2009, the college-age population will shrink beginning in 2025

. It is also true that overall undergraduate college enrollment dropped 8% from 2019 to 2022 according to data from the National Student Clearinghouse. According to the Bureau of Labor Statistics, that college enrollment slide is the steepest on record. Moreover, it is also true that this decline in college enrollment appears to be stabilizing, with freshmen enrollment increasing substantially last fall according to a new report by the National Student Clearinghouse Research Center

. And finally, according to the National Center for Education Statistics (NCES), total enrollment in degree-granting postsecondary institutions, enrollment of undergraduate students in degree-granting postsecondary institutions, and enrollment of postbaccalaureate (graduate) students in degree granting postsecondary institutions are all projected to increase by 3% between 2017 and 2028

.
What to make of all this? And should we care? Will the lower birthrate measured during the recession mean fewer law school applicants down the road? More importantly, are we missing the forest for the trees, or rather are we missing the sea change for the cliff? It turns out we might be — the sea change is going to be way more important than the cliff.
As was masterfully explained during the recent LSAC Annual Meeting conference session Confronting the Enrollment Cliff: How Undergraduate Colleagues are Preparing, it is not the volatility of the birthrate or college enrollment numbers that should be keeping law school admission professionals up at night. It is instead the dramatic demographic changes that will occur in the college enrollment population that will need the full attention of law schools and LSAC. In their presentation, Allana Forté, Christine Harper, and Leah Young highlighted the reality that regardless of its size, the future law school applicant pool will be considerably different than the one we are familiar with today, with much larger numbers of students of color, first generation college students, and students who come from low-income/low socioeconomic families. A larger group of candidates will also be marked by pandemic learning loss and increased mental health needs.
The conference presenters further highlighted the tremendous differences in the coming demographic shifts based on geography, both as to overall population growth and the relative growth or decline in population based on race and ethnicity. Not surprisingly, Hispanic and Asian populations of young people are expected to rise nearly everywhere, while the Black population will both grow and decline considerably depending on the state and region; the population of white non-Hispanic young people will decline nearly everywhere.
The NCES projections

of education statistics to 2028 provide additional specificity to these demographic changes among students in degree-granting postsecondary institutions:
Enrollment of U.S. residents is projected to
▼ Decrease 6% for students who are white between 2017 and 2028 (10.5 million versus 9.9 million)
▲ Increase 8% for students who are Black between 2017 and 2028 (2.5 million versus 2.7 million)
▲ Increase 14% for students who are Hispanic between 2017 and 2028 (3.5 million versus 4.0 million);
▲ Increase 2% for students who are Asian/Pacific Islander between 2017 and 2028 (1.3 million versus 1.4 million)
▼ Decrease 9% for students who are American Indian/Alaska Native between 2017 and 2028 (138,000 versus 125,000)
▲ Increase 1% for students who are of two or more races between 2017 and 2028 (700,000 and 705,000)
For those with an interest in diving deeper into these demographic changes, more detailed, nuanced data and analyses can be found in the US Census Bureau's Demographic Turning Points for the United States: Population Projections for 2020 to 2060

.
But what does this herald for law school applicant and enrollment numbers?
As anyone who has worked in legal education or law school admissions knows, the numbers of LSAT test takers, law school applicants, and law school matriculants over time are best described as a series of curves with some sharp peaks and valleys along the way. Those peaks and valleys have most often been the result of economic, political, and cultural factors more than the result of changes in undergraduate enrollment. Arguably the runup of law school applicants that peaked in 1991 was at least in part the result of the success of the fabled NBC television show "L.A. Law" that ran from 1986 to 1994. The runup of applications that peaked in 2004 was the result of the economic boom that followed the 2001 dot-com collapse. That peak was followed by a period of steady decline in applicants that ended with the onset of the Great Recession. The boom in applicants in 2021 was in some ways the result of heightened interest given the state of the country and world with the COVID-19 pandemic, economic instability, racial and social injustice, and political polarization, among other things. LSAC was also able to quickly pivot to deliver the LSAT online and provide support in terms of loaner devices and access to internet and quiet space at no additional cost to test takers.
The consulting firm Encoura

recently confirmed that the economic cycle is a much more important variable in the number of law school applicants and matriculants than changes in the volume of the population aged 25-29. In 2022 LSAC commissioned Encoura, through its Eduventures research and advisory services, to analyze what impact U.S. population forecasts, specifically a decline in high school graduates, might have on the law school pipeline. Their report concluded that while the age 25-29 population in America is forecast to fall by 6% by 2040, that decline is far outweighed by the growing number of Americans earning a bachelor's degree, a prerequisite to law school, noting that this age cohort represents a larger and better educated cohort than has existed at almost any time in U.S. history. (See figure, below.) Instead of seeing the change in volume of the age 25-29 population as a net negative for graduate and law school enrollment, their report echoed many of the issues highlighted in the recent annual conference presentation, namely that rising law school tuition, student debt, and media coverage of the legal profession and legal job market are all more likely to influence future law school application numbers than changes in population volume by age.
U.S. Population Aged 25-29 (1989-2040F), Bachelor's Completions (1989-2020), Law School Applicants and Matriculants (1989-2021)
- population appears only a modest driver of law school demand. Bachelor's boom appears disconnected. Some evidence of law school applicant-enrollment momentum post-recessions (perhaps disillusion with finance, tech).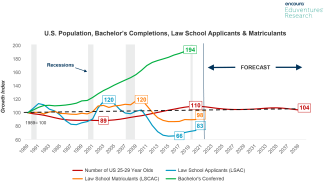 Source: NCES, LSAC, World Bank and Eduventures analysis
What's the upshot of this information overload? First, law school applicant volume is not likely to plummet as the result of the so-called coming enrollment cliff. Second, and nonetheless, the contours of the law school applicant pool are likely to change dramatically, and in ways that are hard to imagine. As Forté, Harper, and Young emphasized, it will be increasingly important, and challenging, to create and foster a culture of belonging on campus. Law schools must begin and continue the work of equipping and diversifying administrators and faculty to support the needs of a quickly changing population of law students. And finally, economic factors, including the real costs of legal education, the health of the legal job market, and the national and global economies, will all continue to have considerable impact on law school application volumes, far more impact than changing birth rates.
To me it suggests that intentional- and community-centric recruitment for the next diverse generation of legal leaders is the only way forward. Whatever the outcome of the upcoming SCOTUS decision about the intentional use of race in admissions, schools can and must still invest and recruit intentionally for diverse applicants. With the changing population demographics, law schools will have no other way forward.