A Bright Legal Journey Emerges from Inside A Dark Room
On Memorial Day, we honor and give gratitude to the brave and selfless individuals who have proudly served our country. Many who have served in the military have channeled their passion for liberty and justice into a career in law. Below is the story of Valentina Basile, a former member of the U.S. Air Force who made the empowering choice to pursue a legal education at what she considered to be an unconventional stage of life — and how that decision led her to become an inspiration for others.
---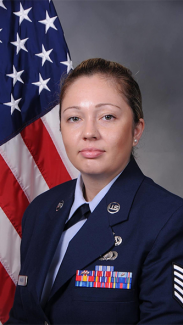 Valentina Basile had her reasons to question whether pursuing law, at this stage of her life, was the right thing to do.
She was going through a divorce, with two kids, and was on active duty, working as a paralegal in the U.S. Air Force's JAG Corps. So, money and time were tight. Still, the idea gnawed at her, so she took the LSAT. It could have gone better, she remembers.
"Was this for me?" she recalls asking herself. "Was this something I wanted to do?"
Good question. Her boss, a staff judge advocate, knew where to find the answer.
"I was told to go into a dark room, block out the noise, and ask myself, 'What do you want? It doesn't matter how you get there or how you pay for it. Just ask yourself if this is something you want to do,''' Basile recalls. "I took her advice and said, 'Yes, this is something I want to do. I want to go to law school and have a more fulfilling career.'"
Fast forward to now. Basile is a law school graduate. She is also a role model for those uncertain about whether attending law school is right for them. As part of LSAC's BE IndiVISIBLE campaign, which encourages all people from all walks of life to consider a career in law, Basile knows firsthand how empowering a legal education can be. She also believes in the importance of a strong support system, which she was fortunate to have in the Air Force.
"Having a great support system and an encouraging family certainly helps," Basile explains. "I worked at the Kirtland Air Force Base in Albuquerque. During my reserve duties, my unit was incredibly supportive, always telling me when it was time to leave and study."
They also served as the ultimate pick-me-up after not passing the bar exam on her first try.
"When I felt burnt out after not passing the bar exam, I was able to go on orders, see my kids, and study for the exam again," she said. "My parents helped me the first time I studied for the bar. The second time, my local unit helped."     
She advises those entering law school to encircle themselves with an equally supportive team.
"Surrounding yourself with likeminded people encourages you. Some people are afraid to make the jump to law school because they may not have the support system they need. They may even have negative people around them," Basile says. "Separate yourself from those who are negative and replace them with positive people. It can be hard if you are not social, but law school makes you look at things differently. You stand up for yourself more. It's a confidence booster."
That's because what you learn in law school changes how you look at things, professionally and personally, she says.
"Learning the law is also part of your own self-development. It enables you to think outside the box and see the bigger picture. It gives you a better perspective on life and more of an ability to contribute to society. You're a better citizen in the community by knowing the law."
A law degree also "opens your mind and perspective and makes you better at whatever job you take," Basile says.
"A colleague at my base uses her law degree to do environmental regulatory compliance for the government," she adds. "A friend in law school, who was in human resources, used her law degree to become a director of a company's HR department. Whether you want to be a CEO, CFO, or work in finance or engineering, having a JD furthers your abilities to excel in your career."
If you're like Basile was — on the fence about pursuing a career in law — visit LSAC.org to discover what a legal education can do for you and how to get started.