Plot Twist: How One Law School Graduate Used Her Degree to Open Doors in Hollywood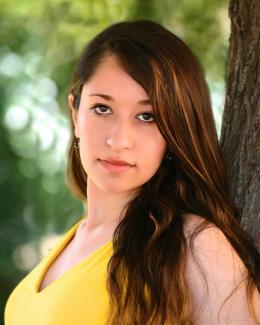 Amena Kheshtchin-Kamel has always been good at telling stories. As a first-generation American, she says she was always drawn to "expressing my voice, and also helping others find their voices." That was part of what led her to pursue a legal education, and while the kind of storytelling she's doing now might surprise you, it's a reminder that a law degree can open doors just about anywhere.
Kheshtchin-Kamel's father is from Egypt, and her mother is from Iran. In those cultures, she says, "you don't just say, 'Hey, I'm gonna be an artist.' There's a joke that you don't tell Iranian parents you're going to be anything but an engineer, lawyer, or doctor." She had to be thoughtful about her path to becoming an artist and pursuing her passion. That thoughtfulness led her to Arizona State University's Sandra Day O'Connor College of Law. "I figured that if I failed to make a living as an artist, I could always represent artists," she says.
Kheshtchin-Kamel did well in law school, and her work there included internships with a judge and at the Arizona Attorney General's Office. But she still felt her calling was in telling stories, so for two years after law school, she worked on building her writing portfolio. "I felt like a loser," she says. "When you're a writer, there's not much tangible success right away, and all my friends were working their way up."
The hard work paid off, and Kheshtchin-Kamel has begun to find success. She signed with a literary manager this year and already has her first paid Hollywood gig, a screenplay that's an adaptation of a book. She has a TV show under consideration for development, and she has a book manuscript under publication review.
A law degree made all those endeavors possible, Kheshtchin-Kamel says. "When I make pitches, the first thing people zone in on is that I have a JD," she says. "It's exciting for them, and it tells them a lot. You write a lot in law school, and I think the expectations for your writing are higher as a result. I see people's eyes light up, and their tone changes. They want to engage and learn more about me."
Beyond being a valuable credential, Kheshtchin-Kamel's degree has allowed her to write credibly about the world of law. "I've found a way to squeeze a legal storyline into many of my stories, and people love it," she says. "I can write authentically about it because I know how those courtroom scenes should read." The training she received in law school has made her more meticulous, but also more creative. And pitching ideas in a meeting is much like going in front of a judge, she says, so her legal experience has helped there, too.
Kheshtchin-Kamel has kept one foot in law via her Legal-Ease podcast, which seeks to provide a nonpartisan look at issues affecting America and the world. And she's a member of LSAC's Student Advisory Group, a panel of law students and recent graduates who look for ways to improve the law school process for candidates and students. She hopes that people who are passionate about law and justice will pursue a legal education, no matter what obstacles they face. "It's a lot of hours and a lot of dedication," she says, "but it's also a test of discipline, and you need to be a survivor."
And Kheshtchin-Kamel is proof that there's no limit to the stories you can write for yourself with a law degree. "If you want to do alternative things as a lawyer, you should absolutely do it," she says. "It makes you stand out. People don't think screenwriting and being a lawyer naturally fit together, but those two things together gave me an interesting profile. Before law school, people didn't take me as seriously. I'm still the same person, but after law school, it was a whole different ball game."
To learn more about what a law degree can do for you, visit LSAC's Discover Law page.