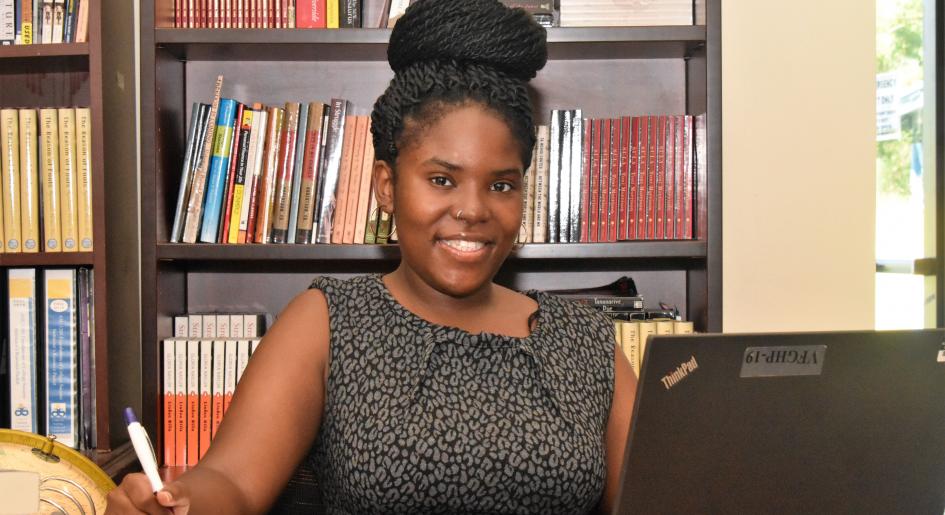 LSAC PLUS Program Gives First-Gen Law Candidate a Window into Law School
Keni Anthony says she's always wanted to attend a historically Black university. "Ever since I was little, watching my auntie walk across the stage at Savannah State, I knew from that age that that would be me," she says. Now an undergraduate at Albany State University, Anthony is preparing for the next step in her journey: a legal education, a first for her family. "I've always wanted to attend law school," she says, "but I had no idea what I was getting into. Even though my family has been to college and been successful in their careers, they know nothing about law school."
A friend told Anthony about the annual LSAC Prelaw Undergraduate Scholars (PLUS) Program, which is hosted every summer at several law schools, with support from LSAC. That immersive program, which Anthony attended virtually through the University of Akron this past summer, provided the perspective she needed. "Being a part of this program gave me insight on what law school was about and what it will take to get in," she says.
The LSAC PLUS Program is intended to give undergraduate students, particularly those from underrepresented communities, that initial look at law school and the admission process. There is no cost, and students receive a $1,000 stipend. This year, the program moved online during the COVID-19 pandemic. LSAC provided laptop computers and internet access to any student who needed that assistance to participate.
Anthony says the online program was "a different experience" but adds that it took away the nervousness of being in front of a new group of people. The information she gained from it was invaluable. "I learned a lot about applying to law school," she says. "I had no idea what a 'character fitness test' was, for example, and I didn't take into consideration how much it matters." She also learned about the admission process and the decisions each school makes — and how, as she puts it, "even the smallest thing can be what gets you into the law school of your choice, or even waitlisted." And she got to take a legal writing class, which showed her that "it takes so much more to be a law student than just reading cases."
As a result, Anthony says, "Now I want to attend law school more than ever." While she originally was interested in criminal law, she now plans to study business law. "I still would like to be knowledgeable about criminal law and help my community when I get a chance," she says, "hopefully even by starting a law firm that caters to pro bono cases."
For Anthony and many other law students, representation matters in all areas of the law. "Throughout history, most attorneys have been white males trying to represent minorities," she says, "so minorities grow up thinking it's impossible for them to even reach that goal. With more representation, it shows children that they are more than statistics. Being from one of those underrepresented groups, and seeing attorneys that look like me, gives me the fuel to know I have a seat at the table. Even though it might be harder for me to get to the table, it still shows me that I can."
Applications for the 2021 PLUS Program open on January 15. For more information, visit our PLUS Programs page.