Oklahoma City University School of Law
The information on this page was provided by the law school.

Official Guide to LLM, Master's, and Certificate Programs
---
Introduction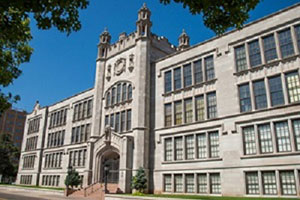 Oklahoma City University School of Law traces its origins back to 1907. It is fully approved by the American Bar Association and is a member of both the Association of American Law Schools and the International Association of Law Schools.
Why choose Oklahoma City University for your LLM degree?
There are a number of reasons to select Oklahoma City University School of Law for your study of American law.
Faculty: Our full-time faculty was educated at outstanding research universities, and our adjunct faculty brings its experience from positions in the judiciary and law practice into the classroom. The faculty's areas of expertise include criminal law, environmental law, governmental law, health care law, homeland and national security law, and the law of indigenous peoples.
Location: The School of Law is located at the center of Oklahoma City, a metropolitan area of 1.2 million people. Oklahoma City is both the capital of Oklahoma and a major business center. Our students are within minutes of the capitol complex, governmental departments, law firms, energy companies, and state and federal courthouses. The national headquarters of the Federal Aviation Administration is close by.
Access to Legal Professionals: The Oklahoma City legal community is extraordinarily welcoming to international students. The law school's location and strong relationships with lawyers and judges provide our LLM students with opportunities for internships with courts, legal departments, the criminal justice system, and federal, state, tribal, and local governments.
Quality of Life: Oklahoma City is one of the most livable cities in the United States and has a low cost of living. The city is famous for blue skies (averaging 250 days of sunshine each year), clean air, and unusually friendly people. The Oklahoma River is an Olympic training venue, and the city's basketball team, the Oklahoma City Thunder, is wildly popular. Golf and tennis are played year round. The city's performing arts venues host symphonies, ballets, theater, musicals, chamber music, and popular vocalists. The deadCenter Film Festival occurs every June.
A Tradition of International Education: Oklahoma City University and the School of Law have long been leaders in international programs for both students and faculty. Oklahoma City University was the first American university to receive authorization from the Ministry of Education of the People's Republic of China to offer an American MBA degree program to Chinese students in China. Together with Nankai University, the School of Law was the cofounder of the International Symposium on Sino-American Comparative Law. Every year, the School of Law hosts visiting scholars from universities throughout China.
LLM Program
The Master of Laws (LLM) degree in American Law program is open to qualified applicants who hold a first law degree from a university outside the United States. The degree requires 24 credits and may be completed in one academic year. LLM students may extend their coursework over a longer period, up to 24 months. All LLM students must begin their studies in the fall semester, which begins in August.
Curriculum: Total of 24 Credits Earned over a Minimum of Two Semesters
All LLM candidates must complete the following two required courses, consisting of six credits:
Introduction to the American Legal System (3 credits)
Legal Research and Writing for LLM Degree Candidates (3 credits)
All LLM candidates must complete a minimum of 18 credits from elective courses. LLM students may select their electives from most courses in our JD curriculum. The School of Law provides academic counseling to each LLM student. The student may select a curriculum that concentrates on a particular field of law or may select a general curriculum.
Tuition and Expenses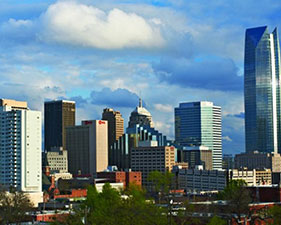 Tuition, including a general university fee. There is also a modest Student Bar Association fee each semester.
Additional costs include books, school supplies, housing, meals, medical insurance and uncovered medical costs, visa and SEVIS fees, and spending money. These additional costs are estimated to be $20,510 per academic year.
Upon admission, international students will be asked to provide a financial certification documenting sufficient funds to cover the costs of attendance for one academic year. Payment of tuition and fees for both semesters of the LLM program must be made prior to the start of the student's first semester.
English Language Proficiency Policy
Applicants whose first law degree program was not taught in English must submit an official score from either the IELTS or the Internet-based TOEFL. The minimum score for such applicants on the Internet-based TOEFL is 90, and the minimum IELTS score is 6.5.
Applicants whose first law degree program was taught in English, but at a university located in a country where English is not the primary language, must submit a statement from the university's registrar confirming that English was the medium of instruction; such applicants are strongly advised to submit an official score from either the IELTS or the Internet-based TOEFL.
Interviews for proficiency in the English language may be required for an applicant; any such interview will be conducted via Skype.
Application Process
Space is limited and admission is selective. Applications received on or before April 1 of each year will receive first consideration.
To apply, applicants must submit the following through the LLM Credential Assembly Service:
Completed application for the Oklahoma City University LLM in American Law degree program
Official transcripts from all universities attended
Certification of English language proficiency—see English Language Proficiency Policy above
Current résumé showing a complete record of the applicant's education, employment, and professional experience and accomplishments
Personal statement (600–1,000 words) describing the applicant's reasons for pursuing the LLM in American Law degree and discussing the applicant's abilities, experience, and career goals
Two letters of recommendation, at least one of which should be from an academic reference who is familiar with the applicant's intellectual abilities and academic performance
Nonrefundable application fee of $70
Upon admission, students will be asked to provide a financial certification documenting sufficient funds to cover the costs of attendance for one academic year.
Housing
Information regarding on-campus housing can be found at Campus Life. For details about off-campus housing, visit www.abetterlifeokc.com.
More Information
For additional information, visit the LLM Program Overview. You may also contact LLMinfo@okcu.edu or
Eric Laity
Professor of Law
Email: elaity@okcu.edu