About LawReady
LawReady, a bold new LSAC initiative, will offer undergraduate students an opportunity to explore a future legal career and pursue a legal education via a holistic pathway to law school admission. The program is designed to help undergraduate students develop the skills necessary for success in law school, navigate the admission process, and build a supportive network – all as part of their regular undergraduate experience.
Program Overview
The program is designed to improve student outcomes by helping undergraduate students in three key areas: 
Developing and demonstrating mastery of the skills necessary for success in law school
Building awareness of the legal profession and law school experience while equipping students with tools for navigating the journey from admission to a career in law
Increasing feelings of inclusion and belonging in pursuing a law degree and legal career by providing strong support networks to assist students throughout their legal education journeys
Building on LSAC's years of experience in supporting law schools and prospective law students with a range of assessment tools, educational resources, and recruitment programs, LSAC's LawReady hopes to broaden access for even more individuals to consider law and address many of the challenges and barriers that prospective law students face. 
Components of the LawReady Program
The Academic Pillar provides:
A roadmap for students in terms of academic courses aligned to skills and abilities critical for law school success (aligned courses can count toward major and/or graduation requirements) 
A series of assessments to track student's progress and proficiency across key skills and abilities
Skill-building that prepares students for success in law school and beyond
The Navigation Pillar provides:
Resources to explore different pathways to law and justice careers
Mentorships, experiences, and activities to help inform students' future educational and career decisions
Support for applying to and preparing for law school
The Community and Engagement Pillar provides:
Access to student success workshops and events
Creation of peer and affinity groups to provide opportunities for students to connect with like-minded individuals at their institution and nationally
Increased feelings of inclusion and belonging in pursuing a law degree and legal career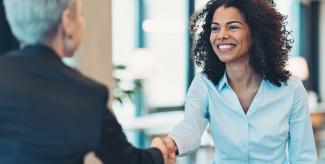 Participating Law Schools
LSAC is partnering with law schools to support undergraduate institutions as they consider adoption and participation at their school. Participating law schools have agreed to consider LawReady as part of their holistic admission process.
Support for LawReady

"It can only be beneficial to students for us to be able to demystify the path through a legal education and legal career. I love the fact that this program is rooted in even greater support for students."


How We Built the LawReady Program
LSAC is working with law schools, undergraduate institutions, students, leaders in the legal profession, and other stakeholders to develop LawReady. This initiative builds on LSAC's years of experience in supporting law schools and students.
LawReady Advisory Committee
We have assembled a group of exceptional leaders and thinkers from legal and undergraduate education and the legal profession to help advise and shape LawReady.
Higher Education Design Partner Institutions
We are honored to be working closely with several design partner schools — undergraduate institutions that are helping us shape the program to make sure it truly meets the needs of students.
Pilot
The pilot for LawReady launched in the fall of 2022 at four participating undergraduate institutions: Cornell College, George Mason University, the University of Maryland Eastern Shore, and the University of South Alabama. In the spring, the pilot began at two additional undergraduate institutions: The University at Albany – State University of New York and Dillard University. Students enrolled in the pilot program took the LSAT at the beginning of their program and are taking two courses — designed to foster skills that will help them succeed in law school, which include:
Reasoning
Argumentative writing
Speaking
Active listening
Time management
Effort
Attention to detail
Working constructively with others
Open-mindedness
Concurrent Validity Study
As a way to ensure the validity of LawReady measures, we're planning a concurrent validity study to investigate the validity of the LawReady measures for use in law school admission. We are currently recruiting first-year law students to participate in this study, which will examine the relationship between performance on the new LawReady measures and law school outcomes, particularly first-year law school GPA.
Questions About the LawReady Program?
For more information about LawReady, email LawReady@LSAC.org.
LSAC LawHub®
Practice with Official LSAT content, attend engaging webinars and other events, and more on LSAC's platform for those at all stages of the legal education journey.
Law:Fully Blog
Follow LSAC's Law:Fully blog for the latest updates about LawReady's progress as we further develop the program.