For almost two decades, LSAC has collected data from member law schools in the U.S. and Canada to support LGBTQ+ candidates' law school enrollment journeys. The purpose of the guide is to help candidates regardless of their sexual orientation and gender identity navigate their law school searches. There is no single "right" law school. The right law school for you will vary based on your interests and needs academically, professionally, and personally.
How to Use This Guide
In the guide, there are two sections for each law school.
1. Policies and Practices that Impact the Student Experience
The first section provides information about policies and practices that impact the student experience. This section addresses:
Nondiscrimination policy

Pronouns

Scholarships

Chosen name usage

Resources and opportunities

Facilities

Local community

Classroom

Faculty
2. Navigating the Law School
The second section provides multiple contacts at each school to answer questions about:
Financial aid

LGBTQ+ resources available on and/or off campus

Usage of chosen name or pronouns

LGBTQ+ student organization(s) and connecting with LGBTQ+ law students

Connecting with LGBTQ+ alumni
This guide will equip you with the basic knowledge you need to understand how schools may or may not meet the needs of students with diverse sexual orientation and gender identities. The guide is not exhaustive. Therefore, each school page provides contact information to help you learn more about where else chosen name appears, the law student experience, and LGBTQ+ representation among faculty, staff, and students at your schools of interest.
Explore Law Schools
Schools Who Responded to the 2021 Survey
---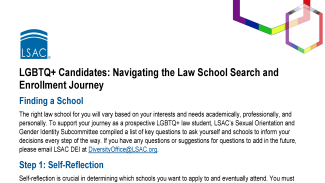 School Search Tips for LGBTQ+ Candidates
To support your journey as a prospective LGBTQ+ law student, LSAC's Sexual Orientation and Gender Identity Subcommittee has compiled a list of key questions to ask yourself and schools to inform your decisions every step of the way.