The Pennsylvania State University, Dickinson Law
The information on this page was provided by the law school.

Official Guide to LLM, Master's, and Certificate Programs
---
Introduction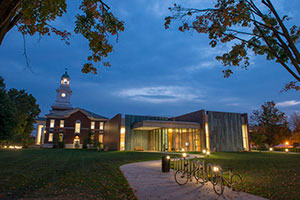 Penn State's Dickinson Law is committed to producing profession-ready lawyers equipped with the doctrinal knowledge, practical skills, and extralegal competencies necessary to excel in an increasingly global legal market. The hallmarks of a Dickinson Law education are an innovative curriculum that, from the very first day of law school, relies heavily on experiential learning to prepare our students to practice law, and a welcoming and supportive community.
Founded in Carlisle, Pennsylvania, in 1834, Dickinson Law is the oldest law school in Pennsylvania and the fifth oldest in the country. For nearly 185 years, Dickinson Law graduates have included the nation's most distinguished attorneys, judges, government and corporate leaders, and legal educators. Our 1997 merger with Penn State expanded our reputation, network, and joint-degree programs—complementing Dickinson Law's legacy as an innovative leader in experiential education.
Throughout its rich 40-year history of offering the LLM Program, Dickinson Law has welcomed students from around the world who have come to advance their careers by studying with our distinguished faculty. At Dickinson Law, we integrate our LLM students into the life of the law school. Our LLM cohort is kept intentionally small to foster greater interaction with faculty and JD students, as well as to cultivate relationships with alumni, judges, and lawyers in the nearby metropolitan legal markets of Harrisburg, Philadelphia, Baltimore, New York, and Washington, DC.
Admission
Penn State's Dickinson Law takes a holistic approach to admission by considering accomplishments beyond test scores and college grades. When reviewing applications, the law school values life and work experience, leadership, community service, advanced degrees, and other personal and professional accomplishments. Please note that admission to the LLM Program at Penn State's Dickinson Law is highly selective.
To express your interest in the program, we encourage you to contact:
Amy Gaudion
Associate Dean for Academic Affairs
Email: acg14@psu.edu
Emily Michiko Morris
Director of Non-JD Programs and Visiting Associate Professor
Email: emm6486@psu.edu
To apply to the LLM Program at Penn State's Dickinson Law, complete the steps below:
Create an LSAC LLM account and register for the LLM Credential Assembly Service.
Submit your application and required materials through your LSAC account by selecting the electronic application for The Pennsylvania State University, Dickinson Law (Carlisle, PA).
For reference, here are the materials needed to complete your application through LSAC:
Personal statement
Résumé or CV
Transcripts. Applicants must submit official transcripts and translations through the LSAC LLM Credential Assembly Service.
Proof of English proficiency or waiver request. Applicants must submit a score report from TOEFL (recommended minimum of 88) or IELTS (recommended minimum of 6.5). A waiver is available for students who received a degree from an educational institution in a country where English is the language of instruction or an official or native language.
Letters of recommendation (optional)
The LLM Admissions Committee reviews completed applications on an ongoing basis.
While most students seek to enroll in the fall semester (August), Penn State's Dickinson Law also offers the option of beginning the LLM Program in the spring semester (January).
LLM Curriculum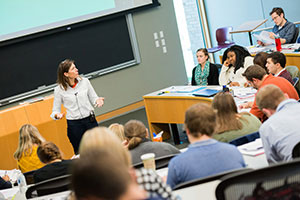 The LLM Program at Penn State's Dickinson Law is a 24-credit, one-academic-year course of study, designed to give students a high-level understanding of the US legal system.
Following the foundational courses that introduce US legal doctrine and analytic methodologies, students may select courses in a particular field or concentration, including
International Trial Advocacy
Criminal Law and Procedure
Business Law
Arbitration, Mediation, and Negotiation
Constitutional and Administrative Law
Public Interest Law
Dickinson Law LLM students may pursue interdisciplinary research opportunities with other Penn State graduate programs, undertake research projects with faculty, and enrich their legal studies by participating in one of our experiential learning programs.
Students must enroll in at least 12 credits per semester and may enroll in no more than 17 credits per semester.
The law school's curriculum includes all courses necessary to sit for the New York bar examination, and we provide individualized academic advising and counseling to LLM students interested in pursuing this option.
Tuition, Scholarships, and Housing
There are a number of government and private scholarship opportunities available to prospective LLM students applying to Penn State's Dickinson Law. In addition, the law school provides a limited number of housing units for admitted LLM students.
To learn more, visit Dickinson Law LLM Tuition and Scholarships.
Faculty
Dickinson Law students learn from a distinctive and dedicated full-time faculty complemented by an adjunct faculty of practicing attorneys and judges. Significantly, all full-time faculty members have spent years practicing law, and they continue to engage nationally and internationally with the legal profession through pro bono litigation, mediation, advisory committees, and scholarship.
Our faculty members believe that their scholarly and teaching missions should be complementary. As engaged scholars, they accept that having a solid understanding of theory is indispensable to our students' ability to operate as legal professionals in an increasingly global, diverse, and sophisticated legal environment.
The faculty is wholly committed to community and to supporting the success of our students. Long before it became in vogue, the faculty embraced an open-door policy that encouraged students to stop by faculty offices without a scheduled appointment.
An Inclusive Community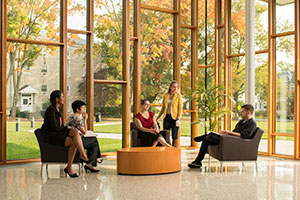 We believe that diversity enriches everyone's educational experience. We are as committed to welcoming people of diverse cultures and lifestyles as we are to preparing them to become the next generation of practice-ready attorneys. As an inclusive community, Dickinson Law defines diversity broadly to include racial and ethnic minorities, women, individuals with disabilities, members of the LGBTQ community, veterans, first-generation students, adult learners, and any others who have experienced subordination, marginalization, or isolation in academic communities because of their identity status. Incoming students are welcomed into this inclusive environment by our Law Lion Ambassadors, who serve as student mentors and community leaders.
We are delighted to support a variety of student affinity organizations, such as
Asian Pacific American Law Students Association (APALSA)
Black Law Students Association (BLSA)
Latino/a Law Student Association (LLSA)
Military Law Caucus (MLC)
OutLaw (the LGBTQ student association)
Women's Law Caucus (WLC)
Moreover, Dickinson Law's core courses integrate diverse perspectives and examine the relevance of diversity to law, the legal process, and practice. Through the law school's curricular offerings and its extracurricular activities, Dickinson Law students are able to develop cultural competencies and better understand minority viewpoints.
Alumni Network
When you graduate from Dickinson Law, you will join a far-reaching network of loyal alumni. As the oldest law school in Pennsylvania and the fifth oldest in the country, Dickinson Law boasts a distinguished alumni base. Not only will you become part of this long and proud legacy of Dickinson Law graduates, but you will also become a member of the Penn State alumni network—the largest active, dues-paying alumni network in the world.
Through our rich 40-year history of offering the LLM Program, Dickinson Law has a wide network of LLM alums around the world available to help our students advance their careers in the global legal market.
Location and Facilities
Dickinson Law's completely renovated historic home in Carlisle, Pennsylvania, has been intentionally designed to further the law school's commitment to community. This LEED-certified facility features state-of-the-art classrooms and seminar rooms; a signature moot courtroom with a 200-seat observatory; a legislative hearing room; the three-story H. Laddie Montague Jr. Law Library; group-study rooms; the Ridge Commons; a courtyard; and a café. All classrooms are equipped with sophisticated audiovisual technology that allows students and professors to communicate in real time with colleagues and professionals around the world.
The law school is located in the historic town of Carlisle, Pennsylvania, which was recently recognized as one of the most livable regions in America by Forbes Magazine. Within a short train ride or driving distance of several large business hubs, our students have the opportunity to network with law firms, NGOs, and government agencies at the local, state, and federal levels in Baltimore; Washington, DC; Philadelphia; Pittsburgh; and New York City.
Dickinson Law's Core Principles
The faculty of Dickinson Law has adopted the following core principles, which reflect and guide the institution's values and aspirations:
To vest in our students the entire range of concrete lawyering skills necessary to most effectively perform as legal professionals at the local, state, national, transnational, and international levels in the twenty-first century.
To engage in a constant quest for knowledge and wisdom that we share not only with our students but also with legal professionals, scholars, policy makers, and others, consistent with Penn State's role as a world-class research university.
To willingly contribute our services to the university and to local, state, national, and international efforts to improve global understanding, the lives and well-being of our students, and the world in which they will live.
To strive, on a daily basis, to foster a sense of community and mutual support between and among faculty, students, and staff, and in our interactions outside the law school.
Contact Information
To learn more, visit Dickinson Law LLM Admissions, or contact
Amy C. Gaudion
Associate Dean for Academic Affairs
Penn State University | Dickinson Law
Lewis Katz Hall
150 South College Street
Carlisle, PA 17013
USA
Phone: 717.240.5208
Email: dickinsonlawllm@psu.edu
Emily Michiko Morris
Director of Non-JD Programs and Visiting Professor
Penn State University | Dickinson Law
127F Lewis Katz Hall
150 South College Street
Carlisle, PA 17013
USA
Phone: 717.241.3532
Email: emm6486@psu.edu