DAY FOUR – LSAC 2022 Annual Meeting & Educational Conference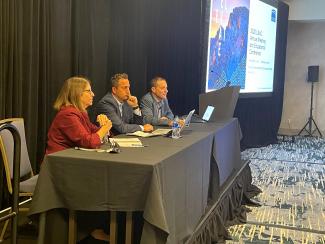 DAY FOUR was the last day of LSAC's 2022 Annual Meeting and Educational Conference in Aurora, Colorado. 
LSAC Board Chair John Valery White began the day with the Business Meeting plenary where he announced the results of the Board of Trustees election and gave a summary of his year as chair including key achievements and the important work yet to be done. And, in an announcement that had the audience on the edge of their seats, John shared the location of the 2023 LSAC Annual Meeting and Educational Conference, currently slated for May 31 through June 3, 2023, in Marco Island, Florida.
Concurrent sessions were held throughout the final day, including Avoiding Digital Fatigue in the Virtual World, Best Practices for Counseling International LLM Students through the Visa Process, Impact and Outcomes: The Future of LSAC's DEI Efforts, Using Data to Elevate Enrollment Goals, What's in the Future for the LSAT?, Supporting and Representing Neurodiverse Enrollment, and Protecting Data and Preventing Incidents, among others.
The mid-afternoon plenary featured the LSAC President's Report which President and CEO Kellye Testy began by thanking John for his service to LSAC as board chair, thanking both retiring and new board members, and welcoming Dean Marcilynn Burke to her new role as chair-elect of the LSAC Board of Trustees.
Kellye also shared key industry challenges for the months ahead, including a pending ruling from the United States Supreme Court that's expected to deal yet another blow to affirmative action, the widening socioeconomic inequality that means access to learning remains uneven, and the ABA Council's consideration of a change to Standard 503 that would allow schools to no longer require a standardized test for admission to law school. Kellye emphasized that the LSAT is the one tool that best predicts law school success and that helps level the playing field for disadvantaged and minoritized students.
Kellye also enumerated key reasons why the legal education community can continue to count on LSAC, including that LSAC will:
Lead with diversity, equity, and inclusion at its core
Innovate to provide schools with the enrollment tools and support needed to make good decisions
Be the HUB for law candidates, and …
Focus its programming on schools and institutions as well as assist candidates and practitioners throughout their legal journeys from prelaw through practice
In a first for LSAC, Kellye presented the inaugural LSAC President's Award for Outstanding Service and Volunteerism to Mathiew Le, assistant dean for admissions and financial aid at The University of Texas School of Law.
Following the award presentation, poet, playwright, and performance artist jessica Care moore read from her new collection on race and gender in America, titled We Want Our Bodies Back: Poems, and other selected works. Inspired by and dedicated to Black Lives Matter activist Sandra Bland, We Want Our Bodies Back digs deeply into race relations and the importance of self love. moore was then joined by Dean Marcilynn Burke for a candid conversation rooted in the themes of her work.
The last night of the LSAC 2022 Annual Meeting and Educational Conference ended with the Saturday Night Après Ski Chalet Dinner on the Juniper Patio.
Perhaps LSAC's 2022 Annual Meeting and Educational Conference can be best summarized by an attendee who, during Friday's End-of-Day Roundup, stood to say that she has been coming to LSAC annual meetings for many years and this one — from beginning to end — was the best she's attended.
… and our work continues.