DAY THREE – LSAC 2022 Annual Meeting & Educational Conference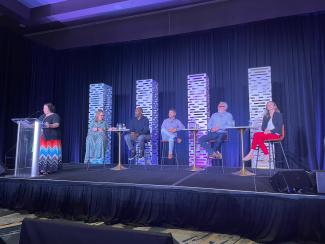 DAY THREE of LSAC's 2022 Annual Meeting and Educational Conference in Aurora, Colorado, began with a plenary featuring Robert Yanckello, senior director and analyst from Gartner. In the plenary, titled Top Tech and Data Trends, Robert shared information and data about application and enrollment trends, offered tips for assessing institutional strategy, and provided actionable takeaways for optimizing recruitment and smoothing student enrollment journeys. David Kirschner, associate dean of admissions and financial aid at University of Southern California, Gould School of Law, moderated the session and was joined by speaker Rebecca Scheller, associate dean, admissions and financial aid at University of Wisconsin Law School.
Following Robert's presentation was a full morning of concurrent sessions, with topics including Bar Eligibility for LLM Students, Best Practices in Dealing with Misconduct and Irregularity Issues in the Admission Process, Credential Assembly Service (CAS) Deep Dive, Managing the Admission Team: Strengths-Based Leadership, and Pathway to the Legal Profession: Justice-Impacted Experience.
After the morning's concurrent sessions, LSAC President and CEO Kellye Testy led a conversation with Bill Adams, managing director of the ABA Section of Legal Education. Kellye and Bill discussed law school accreditation, reporting, and, of particular interest to the audience, the ABA's proposed changes to Standard 503. Kellye began this anticipated discussion by noting the admission community's surprise that this proposal was reintroduced after having been withdrawn in 2018 due to substantial opposition and just as legal education has enrolled the most diverse class in history. Bill shared a detailed history of the proposal and made clear that no changes are expected during the current admission cycle, which is already beginning for Fall 2023 entry.
He also clarified what he saw as misleading news reports of the proposal by noting that the Council expects schools to continue to use the LSAT to meet Standard 501's requirements of sound admission policy. Kellye concluded the collegial discussion by noting that she also expects that schools will choose to continue to use the LSAT as one part of a holistic admission process so that they continue to promote access and equity. Bill and Kellye also assured the audience that their teams would continue to work together to try to streamline data and reporting requirements to ease the administrative burden on law school staff.
Following the conversation with Kellye and Bill were numerous afternoon sessions, including Cannabis Equity and Character & Fitness; Excel, Spreadsheets, and Data Tools—Can They Work for You?; Marketing in a Post-COVID World; Presenting Yourself on Zoom; Keeping Up with the Joneses—Comparing Application Review Processes; Building Teams and Knocking Down Silos; and Supporting Native Students from Orientation to Graduation.
DAY THREE concluded with an End-of-Day Roundup. Kellye led panelists Rebecca Scheller, associate dean, admissions and financial aid at University of Wisconsin Law School; Michael W. Donnelly-Boylen, associate dean for enrollment and strategic initiatives at Roger Williams University School of Law; and Gisele Joachim, executive director for education and ambassador programs at LSAC, in a look back at the day's key sessions which included an audience Q&A on favorite learnings from the day. The Roundup also included a preview of plenary sessions on Saturday and many of the concurrent sessions that conference attendees could anticipate.