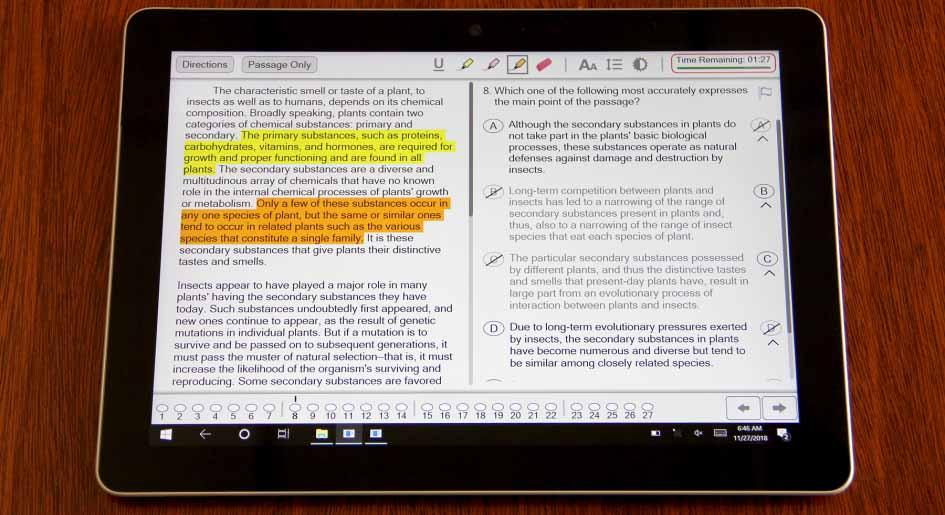 LSAC & Microsoft Team Up to Deliver the Digital LSAT—and Much More
Earlier this year, LSAC announced that after 70 years of administering the LSAT exam in a pencil-and-paper format, we will be transitioning to a newly patented digital format starting in July 2019.
Today we are announcing that LSAC is going to deliver the Digital LSAT on Microsoft Surface Go tablets, as part of a much broader collaboration with Microsoft aimed at using digital technology and data to make legal education more accessible, affordable, and effective.
LSAC has been working on Digital LSAT delivery with Microsoft for many months, and we are confident that test takers will have a very positive experience with the Digital LSAT on Microsoft Surface Go tablets. After much research and consideration, LSAC found that Microsoft's Surface Go was the best device for the task—from its size and design to security and manageability. The LSAT user interface on the Surface Go has been developed under principles of universal design so that users will be able to adjust the size, color, and spacing of the text, the brightness of the screen, and other factors based on what works best for them. In addition, Surface Go has a kickstand that will allow test takers to adjust the angle of the screen from almost flat on the table to close to 90 degrees for flexible reading according to user preference. And like all Microsoft hardware and software, Surface Go has been designed from the ground up to provide a wide range of accessibility features and functionality that will support LSAC's commitment to accessibility for test takers with disabilities. The Surface Go offers a built-in screen reader, text and icon magnifier, and many other tools to deliver an optimal experience for test takers needing such accommodations, which will support our mission to expand and diversify the legal profession.
The Digital LSAT will provide a number of benefits for test takers. Over time, the digital test platform will speed up score delivery, allowing candidates more time to make decisions about the next steps in their application process. The software makes it easy to highlight key parts of questions, to eliminate answers, and to flag questions that you want to go back to later. The digital interface means there's no separate answer sheet, so there's no risk of putting your answer in the wrong row.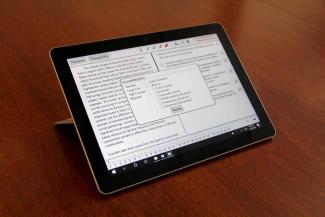 We expect that more and more candidates will practice for the LSAT on digital platforms, and we'll be making a wide range of digital tools available, in addition to the free Khan Academy LSAT learning platform that we launched earlier this year. Looking ahead, we plan to assist candidates in using data generated from their practice sessions to pinpoint areas where they need to focus, then help them access tutorials, sample questions, and other resources for developing those skills that will aid their success in both the LSAT and law school.
But the Digital LSAT is just the tip of the iceberg in terms of how data and digital approaches can transform our organization and help us accomplish our mission of serving law schools and their candidates.
We know we can make the overall law school application process more effective, efficient, and affordable for students and law schools alike by making better use of cloud-based services. And since many students start to zero in on their career paths in high school or even earlier, we want to make sure we are using technology to help students—particularly students from underrepresented and low-resource communities—to understand how their abilities and interests might be a good fit for a career in law, and providing resources and opportunities for those students to develop a successful enrollment journey toward law.
Looking even further ahead, we believe that the lessons we derive from the Digital LSAT will provide rich insights into how we can measure and improve the critical thinking skills that are essential for many professions. We want to create a process for evaluating not just what people have learned, but how they think through problems and learn as they go. We want to develop advanced cognitive measurements that can help support students and help improve educational outcomes. Those kinds of services could have a profound impact far beyond legal education and could benefit students at every age and every level to overcome challenges and achieve more.
The past 25 years have seen huge changes in technology that have reshaped our economy and our society. Legal education and the legal profession need to keep up with the pace of technological change. With the breadth of Microsoft's solutions and their commitment to privacy, security, opportunity, accessibility, and inclusion, I can't think of a better collaborator to help those of us who care about legal education navigate these accelerating changes.
In the months and years ahead, we look forward to working with law schools, candidates, employers, and so many others across the legal sector, first to deliver the Digital LSAT, then to ensure that we are applying digital technology and data to advance every aspect of legal education and access to justice.